MAC's latest collection to hit UK and European shores is Naturally. It consists of well... natural shades really. Nude lipsticks, golden and beige tones with some browns and pinks thrown in. It is a lovely collection and is great to pick up some basic tones but still be interesting for makeup fanatics as they are all still interesting.
I'll start with the mineralize eye shadows that I got:
L-R: Summer Haze, In The Sun, Twilight Falls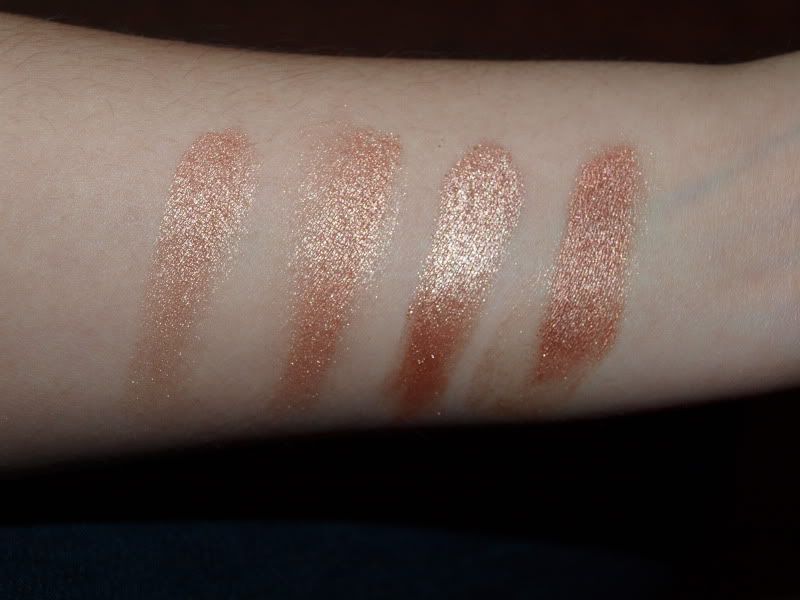 Summer Haze L-R: dry, over UDPP, wet, over Fyrinnae Pixie Epoxy
Summer Haze is a gorgeous light gold and I can also get a peachy beige out of my pan too. It is super smooth and gorgeously pigmented. It makes a lovely lid brightening shade and the lighter shade in the pan is good for a highlight. It looks really metallic when used wet or patted over Pixie Epoxy which is very good for helping it stick all day long.
In The Sun L-R: dry, over UDPP, wet, over Fyrinnae Pixie Epoxy
In the Sun is a hot burnt copper. The veining in my pan isn't as nice as other pans I have seen where there is more fuchsia to pick from. If you pick a pan with more fuchsia, the colour variant would be a bit different as mine mainly has deep gold in it. There is some shimmer in this shade which can fall out so a sticky base such as Pixie Epoxy is best, plus it helps to give it even more intense colour payoff. The sparkle looks really pretty on the lid when the light catches it and the particles aren't too chunky.
Twilight Falls L-R: dry, over UDPP, wet, over Fyrinnae Pixie Epoxy
Twilight Falls is a beautiful shade of mauvey brown. I really love this one. It works fantastically with the other two shades I got and is a very good yet interesting every day brown. You may see in the image there is a blueish sheen, this makes it more than the average brown eye shadow. It is so smooth and buttery. The pigmentation even when dry is very good and would be great as a quick wash or to smudge along the lash lines for a smokey look. I wear browns and golds a lot so this is going to get a good amount of love from me.
There were three shades of mineralize blush in this collection but only this one stood out to me. It is Subtle Breeze. I also wanted to stay on the safer side because I'd never tried the mineralize blushes before so didn't entirely know what to expect and wanted something more wearable to me.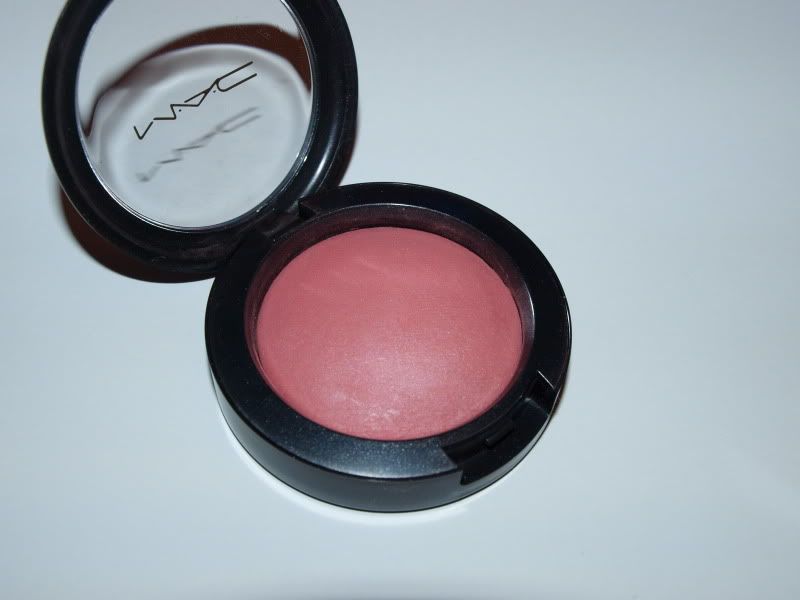 Subtle Breeze mineralize blush
Subtle Breeze is amazing, it really is. It is soooo pigmented, I swirled my brush into it as normal and ended up with way too much product on my face. A couple of taps into the pan is all that is needed to a lovely pink flush. The finish is beautiful, it has a slight sheen so isn't completely matte but has no shimmer in it either. I really like it, it gives such a pretty glow. I find that it lasts really nicely on me too although I do have dry skin so not sure how oily skin would fare but it is worth a try.
There are two mineralize skinfinishes in this collections, these are some of my favourite products from MAC so I was pleased to see these. They are both repromotes from the Blonde, Brunette, Redhead collection.
L-R: Redhead, Blonde
Redhead Mineralize Skinfinish - first four as the different shades,
last two are mixed, swatched heavily and then blended.
Redhead is the warmer shade of the two. It is more golden toned. It is very smooth, so much smoother than I expected it to be and than of any other of my MSFs. I think it would be flattering on a wide variety of skin tones. It gives a lovely golden sheen to the skin but like all MSFs it is quite shimmery so may emphasise pores. 
Blonde Mineralize Skinfinish - first four as the different shades,
last two are mixed, swatched heavily and then blended.
Blonde is a cooler shade, more pink based. It is still a flattering shade and works nicely over the top of Subtle Breeze blush. This is just as smooth as Redhead and also shimmery.
Perfect Day lipstick
Perfect Day lipstick

This is the only lipstick which appealed to me, it is a lovely pinky nude which I find far more wearable than most nudes. It doesn't look stark against my skin tone and would work on a lot of different skin tones. It is an amplified finish so applies a good amount of colour in one swipe. It lasts pretty nicely for a nude shade, probably due to the finish which seems to stick to lips better than a lustre or cremesheen lipstick does. I haven't got a lip swatch because my lips are far too dry for photographing at the moment... I hate what this cold weather does to my skin!
So that is what I picked up from Naturally, all very nice wearable colours which can be paired with lots of different shades to make really nice looks from neutrals to brighter. Anyone else pick anything up? What did you think of the collection?
Jennifer x