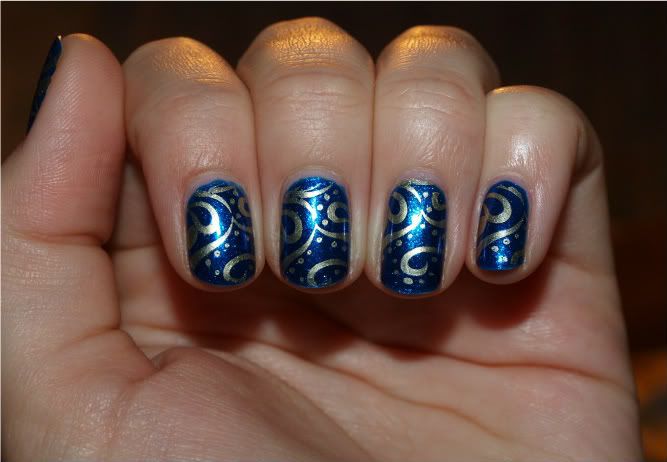 I decided to pull my Konad Stamps out again as I hadn't used them for a while. I also wanted to use one of my new China Glaze colours from their Holiday line. I decided to pop into Superdrug to pick up the two new Barry M foil effect polishes as I thought they would work well for stamping. From what I have seen, foil finish polishes seem to work really nicely for this. Oh I am glad I did because they are perfect stamping polishes and also can be used for painting nails so no need to buy the silver or gold Konad stamping polishes which are actually rubbish and not very opaque. I was so pleased with how this came out, it was really quick to do the stamping. I quite like how none of the stamps are in the same position and I'm also pleased at how neat my painting has gotten since I started this blog :)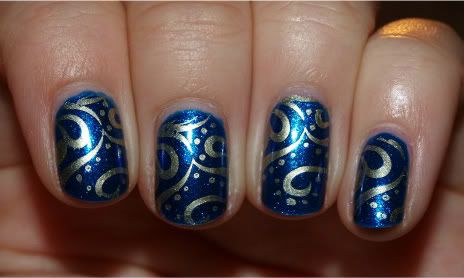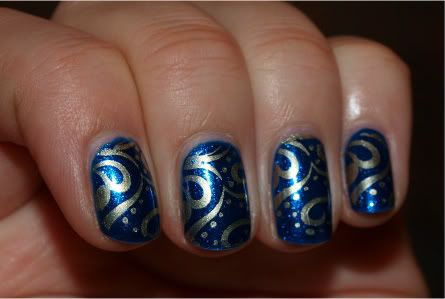 What I used:
OPI Nail Envy x2 coats (this is my regular base)
China Glaze Blue Years Eve x2 coats
Seche Vite x1 coat (to aid drying before stamping)
Barry M 320 (gold foil) for stamping
Konad image plate M64
Seche Vite x1 coat
I wore this manicure for a whole week before starting to get small chips. China Glaze's polishes always seem to last really well on my nails. I also love this colour and highly recommend it. I purchased my bottle from
transdesign.com
for $2.99, absolute bargain!
Jennifer x