I love vintage styles, especially things from the 1920's and 30's like Art Deco and flapper dresses. Here are some of the images that inspired this look.
Clara Bow
Bebe Daniels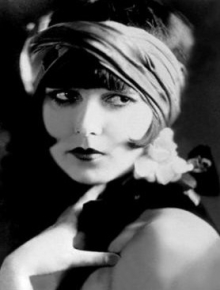 Louise Brooks

Anita Page
Marceline Day
I think women from this era were just so classically beautiful. They always wore a red lipstick, often a dark red shade. Their eyeshadow drew out into a point to excentuate the eye, using a sultry dark grey or black. They would often bleach their skin and powder it white as this was a time before Coco Chanel popularised the sun tan. Blush was applied onto the apples of their cheeks in a doll like way and mascara swept through their lashes in an outwards motion towards the outer corner. I wanted to create a look which was inspired by these women but make it wearable for nowadays. My skin isn't as light as these women, my hair is longer and my eyebrows thicker (I'm not plucking them that thin!) so this is my take on it.
Face: MAC Studio Sculpt Foundation NC20 (a lighter colour could be used to make it more accuarate), Bobbi Brown Corrector (Light to Medium Bisque), Bobbi Brown Concealer (Beige), Collection 2000 Translucent Powder (I really powdered my face, much more than I would usually do to make it matte), MAC Oh So Fair Beauty Powder on apples of cheeks and then blended back lightly, MAC Plum Foolery blush stippled onto apples to make them brighter.
Eyes: MAC Carbon eyeshadow, Urban Decay Creep (ideally you would want a dark black matte eyeshadow but I only have Carbon and it is more of a soot colour.)
Lips: Illamasqua Sangers applied with a lip brush, slightly altering the shape of my lips to make them more pouty, MAC Love Peck applied with a brush over the top (the lips were darker in real life than shown here) and MAC Strut Your Stuff added to the centres to brighten them up.
For my hair, I just washed and blow dried it then while I did my makeup, tucked it behind my ears so when finished it has a wave in it. Then I picked up the right side and twisted it around the back of my head, fastening as I went along then when I got to the left side I just twisted it back down to create a sort of false bun. I think I used about four grips in total so it was really easy to do.
- Jennifer