Hi all! Hope you have had a good weekend. It has been really nice in London and I've been busy in the garden planting, sowing and pruning.
I'm going to review the items I got from the Quite Cute collection. I've had these for a couple of weeks now and whilst I haven't really worn much of it yet I really like what I got. I think the lipsticks especially are perfect Summery shades.
First up, the lipsticks...
Playtime.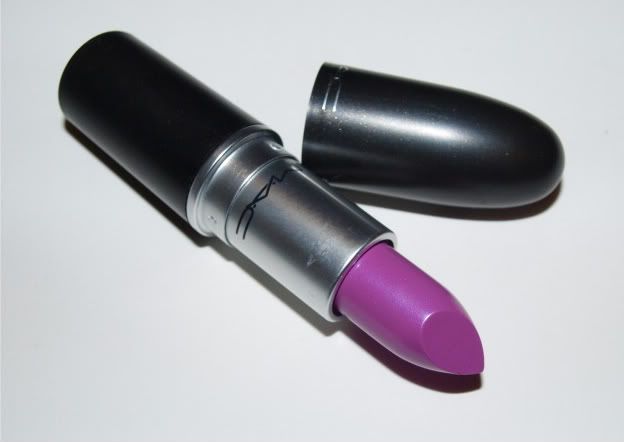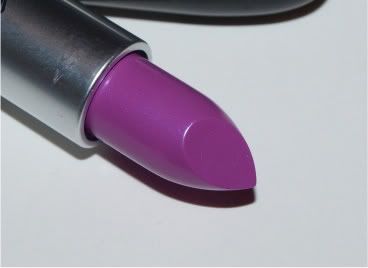 I really like violet/purple lipsticks. I find they make my eyes appear greener and they work well on my skin tone. I also like that not everyone wears purple on their lips. It is so easy to get a red or a pink or a nude but purple is harder to come by. I find it hard to wear purple on my eyes due to having such dark circles and it makes me look very tired so a lipstick is a nice way of wearing purple for me. The finish of this lipstick is a creamsheen, not my favorite finish but in this lipstick it is very nice and feel smooth and slightly moisturising on my lips. It is similar to Style Curve but is more purple, Style Curve is more magenta. It is buildable and in real life it looks a bit more purple on my lips but I found it hard to capture with my camera.
Temptalia
has a very good swatch of it but on my lips it is a bit pinker due to my natural lip colour being more pigmented than Christine's. Hopefully that gives you an idea of the colour. I originally didn't want this colour as I have Style Curve and Violetta (much more purple and opaque, amplified finish) but once I saw swatches of it I decided I wanted it because it was a sheer purple and Style Curve doesn't look purple on me. It is also sheerer than Style Curve and I think it makes it a bit more wearable. I love it.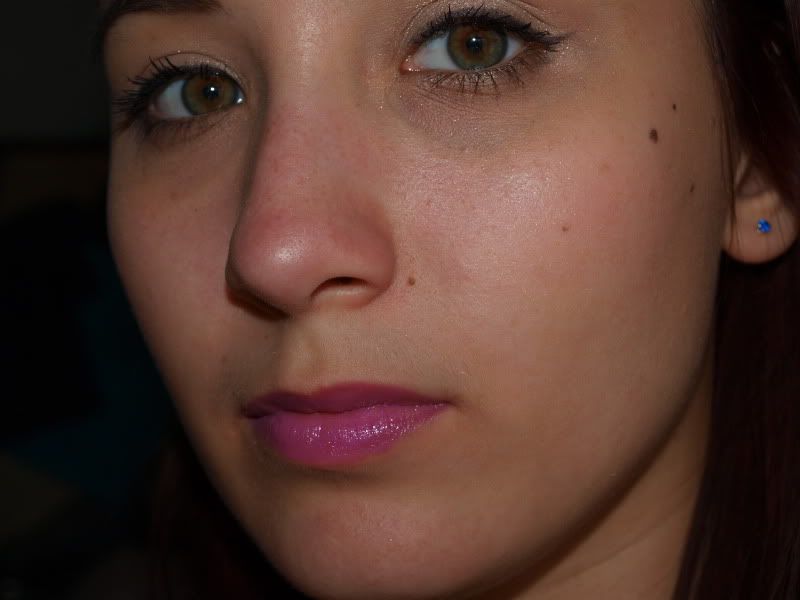 Candy Yum-Yum.
This is just amazing. The colour is so stunning and shocking, I know my boyfriend will hate it and not want me anywhere near his face with this on haha. It is a bright neon pink which is blue based but it really is a universal colour. I have seen this on so many skin tones and it looks fantastic on everyone. You can go lighter with it if you are scared by tapping it on and adding a gloss or balm on top. It is a matte finish which I have found can be drying but this is not at all. The formula is perfect, it stays put and doesn't dry your lips out and goes on so evenly. It is a really flattering colour even though it is so bright and I think it is the must have from this collection. I have bright pinks like Show Orchid and Full Fuchsia but this one amps it up to another level. Another love from this collection. It will look amazing with brightly patterned maxi dresses and floaty tops during the summer.
Lipliners.
There were three lip liners in this collection. I chose two of them, Naked Liner and In Synch. I'd seen these before and wondered why they weren't permanent colours because they are so versatile and really should be in the permanent line. Everyone can wear a nude liner and it can go under any lip colour. I was really thrilled when I saw they were being repromoted in this collection as I was looking for the perfect nude shade and not finding it and also something to go under coral. These liners are now permanent as of this collection so that is brilliant.
Naked Liner is a very light peachy beige. It completely blanks out my lips like a concealer would for me except I don't get the dryness I would from a concealer. You can use it lightly so it doesn't completely erase your lips too but if you have a colour which you find difficult to see on your lips, you could use this under it to make it show up better. This colour is perfect for any shade at all especially nude shades as light colours don't tend to last as long as brights do.
In Synch is a peachy light pink, another great colour to the range. MAC were lacking a liner shade for pinks and corals and this is very good as one. A colour that I can use a lot. You could of course just add a bit of sheer gloss on top and the liner colour will add to the gloss shade for a nice light pink lip colour.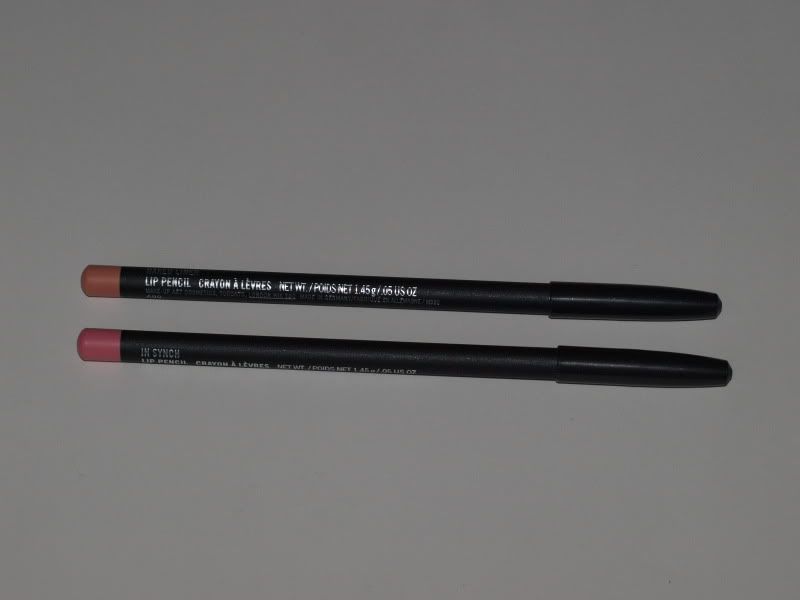 Top: Naked Liner, bottom: In Synch

Top to bottom: Candy Yum-Yum, Playtime, In Synch and Naked Liner
Lastly I got Mischievous Mint nail lacquer. I don't have a nail swatch for this but if you look at my
Retro Flowers Nail Art,
I have used it as the base colour in that. I wanted a nice mint green so thought this would fit the bill. It is really nice but it doesn't really look green on nails, instead looking more blue. The formula was quite good, not the best though but I did achieve opacity with two coats, no problem. The brush is just bloody awful though. Mine was splayed out in different directions and it made it difficult to apply the polish as there was constantly a couple of bristles sticking up and getting in the way. MAC really need to sort their brushes out, I've never had any other polish with a brush like it and I'm not the only person to receive a rubbish brush in a MAC polish. Colour good, brush not good. Shame really.
- Jennifer