Hi everyone, hope you are all okay. Sorry for being away for a few days, I was staying at my boyfriend's house for his birthday and for some chill out time away from work.
This is a little view on an online store I'd been eyeing up for a while called
Viva La Nails
. They sell all sorts of nail products for both professional technicians and at home use. They have so many things that I've wanted to try so I decided to place an order. I also received their press pack containing some nail stickers and water decals, both of which I'd been curious about.
Here is what they sent me:
As you can see, there are some really nice designs there. My favourite is the one on the far right which is a water decal sheet. The others are all stickers. I've tried out one of the sticker sheets so far and the water decal sheet. When I use the others, I will post some pictures of what I use them for.
The stickers are quite tiny and a bit fiddly to pick up with fingers so a pair of tweezers or some sort of pointy object such as a cocktail stick to pick them up with is essential and it will also help to place them more accurately. I found that the sticky on the back of the stickers was not particularly strong so a topcoat is needed to get them to stick longer - having said that, it does allow them to be repositioned before adding topcoat. I think they need a bit of practise when applying them to yourself too because I had a few come off because I hadn't stuck them down properly so the edges lifted. It would be so much easier to apply them to another person. They may even work better with something like a gel coat over them if you do nails professionally. But as always, practise makes perfect so hopefully I will find the next sticker manicure easier now that I know what was wrong with my application.
Here is what I did with them: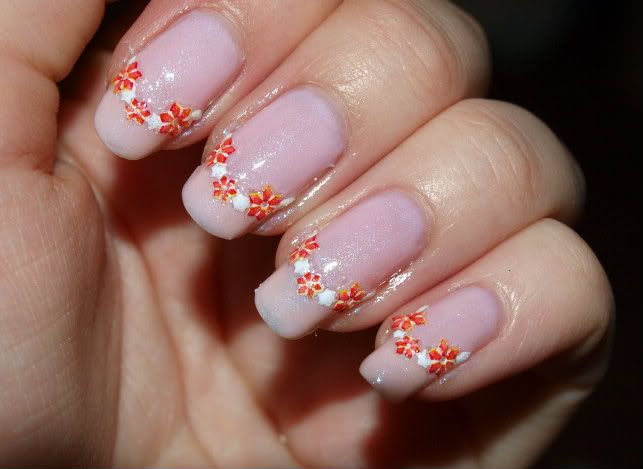 I used a base of Nicole by OPI Kimpletely in Love (from the Kardashian Kolor collection).
Then I used three stickers on each nail to create a french tip shape.
Lastly I sealed it all with topcoat.
The other manicure I did used the water decals. You get two full manicures worth on the sheet (20 designs) in different sizes to fit your nails. I loved these, they were so easy to use and I really enjoyed applying them. All you need to do is cut around the design, place it into a little bowl of water, remove the backing and place it on the nail. They are repositional if you carefully do so before they dry. Then I sealed it all with topcoat. They lasted really well and I ended up taking them off when I was bored of it. I'm sure they would have lasted a few more days too.
What I used:
Butter London Lady Muck as the base colour.
One decal on each nail.
Seche Vite to seal and prolong the wear.
Overall I think they are really fun products to play with and incorporate into nail art, especially the fantastic water decals. The packs do not have instructions on them but they can be found on the
Viva La Nails
website.
Viva La Nails
, themselves were really good with my order. It arrived quickly and I was happy with everything there. The website is really good and easy to browse. I also like the instructional videos and ideas that are given for the products. I will definitely be ordering from them again.
Nail art stickers can be purchased
here
.
Water decals can be purchased
here
.
Jennifer xx
* These products were press samples for review purposes. All opinions are my own from my own experiences testing the products.