Number 3 of the looks I have created using the Sleek Monaco palette. This time I wanted to create a look with the bright pink, it ended up looking very girly and a little Barbie-ish so I thought I'd go with it and add some false eyelashes (terrible application I will add, I am really new to attempting these and I've not got the hang on it yet) and a bit of pink lipstick.

I used Lotus Flower (shimmery lilac) over the whole of my lids and then applied Magenta Madness (bright matte magenta) through the crease and blended upwards gently as it is quite a strong colour. I added some Moors Treasure deep in the lower part of the crease and then lined my upper lash line with it. I softened the line so it wasn't as harsh and lined my lower lashes along the outer third with the same shade. I then lined the rest of my lower lashes with Lotus Flower. I put a teeny bit of black liner on the outer part of my upper lashes to add a little flick. The false lashes I used were from Eyelure and were the natural volume ones (not sure if they have a number or proper name), they are subtle and suitable for everyday wear if you wish (and can apply them properly, unlike me lol).
Also used:
Chanel Vitalumier foundation
Bobbi Brown Creamy Concealer
Sleek Luminous Pressed Powder
NARS Laguna bronzer
NARS Orgasm blush
MAC Brow Pencil in Spiked
Urban Decay Primer Potion
Bobbi Brown Gel Liner in Black Ink
Chanel Inimitable Intense mascara in Noir
MAC Creme Cup lipstick
I wanted to see what it would look like with a brighter pink lipstick so I switched to MAC Chatterbox, one of my favourite lipsticks. I don't think the tone of the pink works as well as Creme Cup. I should have gone for something more magenta based, or even neon like MAC Candy Yum Yum.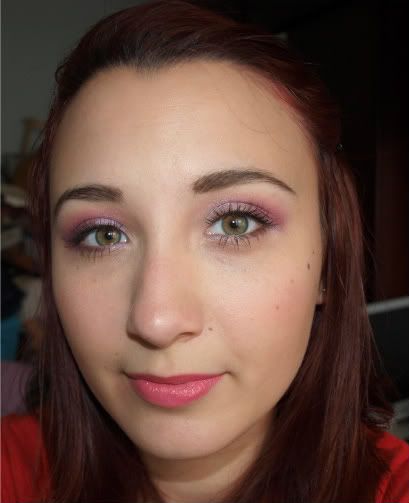 Do you prefer the lighter or brighter pink lips?
I have 2-3 more looks coming up for this palette and then I'm going to move on to the Caribbean palette.
Jennifer xx