It is the end of the month again, I can't believe we are half way through the year already! So these are the products I have been enjoying during June.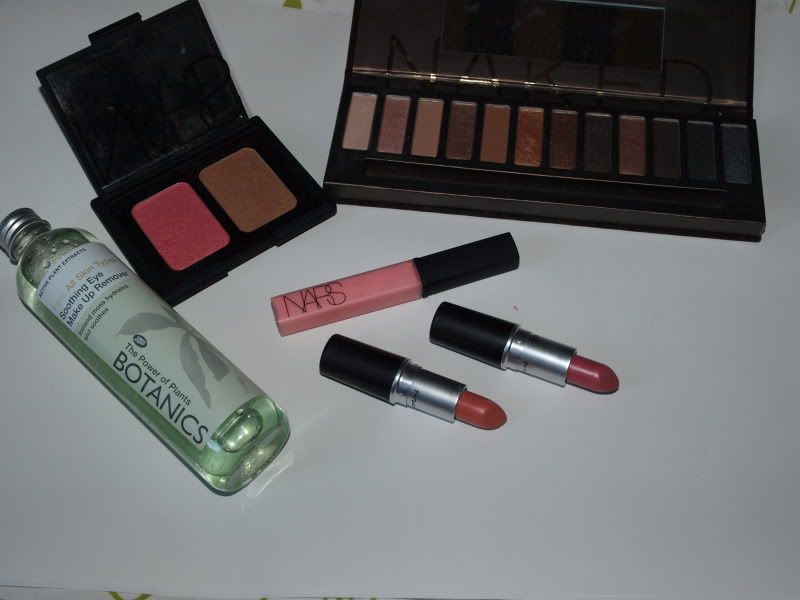 I've recently gotten into NARS, the blushes are such a cult favourite and I can totally see why, they are Divine! I have been using the Blush/Bronzing duo which contains Orgasm Blush and Laguna Bronzer. I'm loving bronzer at the moment, I like using it to add a subtle contour to my face as it helps give my cheeks more shape and definition. I also use it through my temples and then lightly across my forehead, down my nose and on my chin. Laguna is such a pretty bronzer, it is not orange at all and can be built up (you do need to lightly tap the brush into the product as it is so pigmented). I love the shimmer in it, it is very subtle but when the sun hits your face, it looks so pretty. The Orgasm blush is one of NARS' cult products and since getting into beauty blogs I have seen this pop up all over the place. It is a gorgeous shade of pink and has subtle gold shimmer through it. Again, quite a pigmented product so a fluffy or duo fibre brush is best to help blend.
The Urban Decay Naked palette has been in my favourites before but this month I have been favouring neutral shades over brights. This palette is perfect and so handy. I've also been taking it to my boyfriend's house when I stay over as it gives me a choice whilst there of different colours to choose from and it is quite compact that I can just slide it down the side of my bag without taking up lots of room. Mine came with a double ended 24/7 pencil but I have taken this out to put a brush in it instead for when I travel.
Boots Botanics Soothing Eye Makeup Remover. I saw this featured in one of
Loveislikemusic's
videos on Youtube (Love Daisy's chanel by the way, she is so creative!) and it just blew me away at the ease of use. You can watch the video about it
here
. It is such a fantastic makeup remover. It is a duo phase type cleanser where you have to give the product a good shake before using it to mix the oily half with the liquid half. I put it onto a cotton pad and hold it on my eyes for just a couple of seconds and it melts all of my makeup away with such ease. It doesn't sting at all, is so gentle and never dries out my skin. Really great product.
For lips, I have been into nudes and light pinks. I've been using the NARS Turkish Delight lipgloss which is a beautiful milky pink shade which goes with everything. I have also been loving MAC Shy Girl lipstick which is a nude peach cremesheen. I think I have found a really good nude for me, it is warm enough not to wash me out and is another colour which I can wear with anything. I love the finish too, it gives a nice glossy finish and is moisturising. Finally MAC Angel lipstick. This is quite similar to Creme Cup but the finish is different. Angel is a frost but it really isn't very frosty, it is a flattering light pink and would work for both warm and cool skintones. I think it is one of the prettiest pinks that MAC does. You can also go a bit Kim Kardashian and use it with NARS Turkish Delight on top to get her signature lip combination! I know barely anything about her but I do really like how she does her makeup lol. Please note that the photo above is not very accurate colourwise for any of the products, it was a bit dark when I took it. If you would like accurate photos/swatches, let me know :)
What are your favourites this month?
- Jennifer