First of all, sorry I haven't posted in a while, I suck. I also couldn't get Photobucket to work for me over the last couple of days. Secondly, thank you to all of my new followers! I really appreciate you all coming to read my blog :) Lastly, I have a few posts coming up, some on the recent MAC releases, Fashion Flower and Semi Precious and also Bobbi Brown's latest offerings, The New Classics, plus the Chanel Byzance collection. Lots to do! I also want to get some makeup looks up but unfortunately can only do these at weekends when I get time to photograph them so fingers crossed all will go to plan with this coming weekend. Then of course I have lots of other random posts stored up in my head for the future too.
So I've been wondering what to do with my nails, attempting some nail art (nothing good enough to post) but recently wanting something simple, without being boring. I decided to do an ombre manicure, I have an awful lot of polish so it gave me a chance to use a few of them at a time.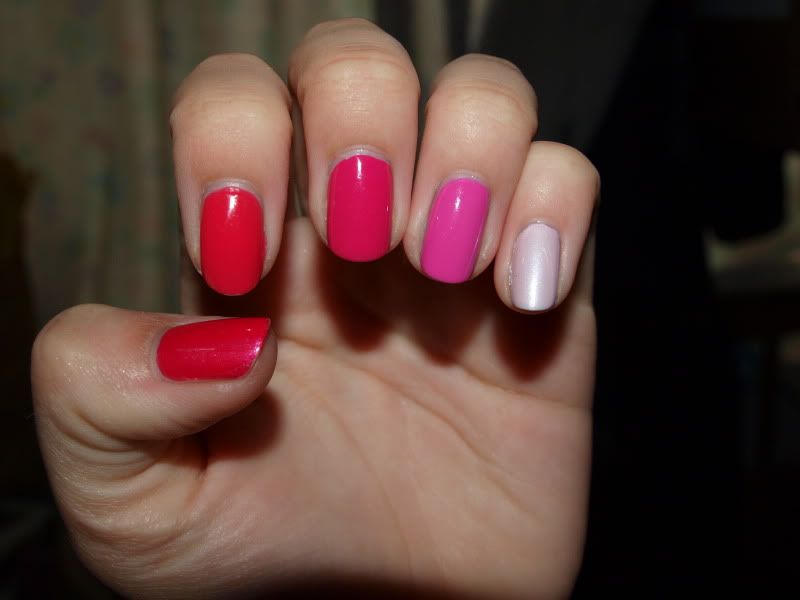 Starting with my thumb I have: OPI Come to Poppy, 17 Pink Grapefruit, Nubar Honeysuckle, Leighton Denny All About Me and OPI Play the Peonies.
I really like it and will be doing the same thing with other colours in future. The OPI shades are from the recent Nice Stems collection which has just come out on
lenawhite.co.uk
if you are interested. The Nubar shade as from their Spring Garden collection and can be bought from
feelunique.com
. Leighton Denny polishes can be purchased from
leightondenny.com
or
QVC
. All polishes apart from Pink Grapefruit were two coats, Pink Grapefruit being three.
I will do my best to get posting more often!
Jennifer x