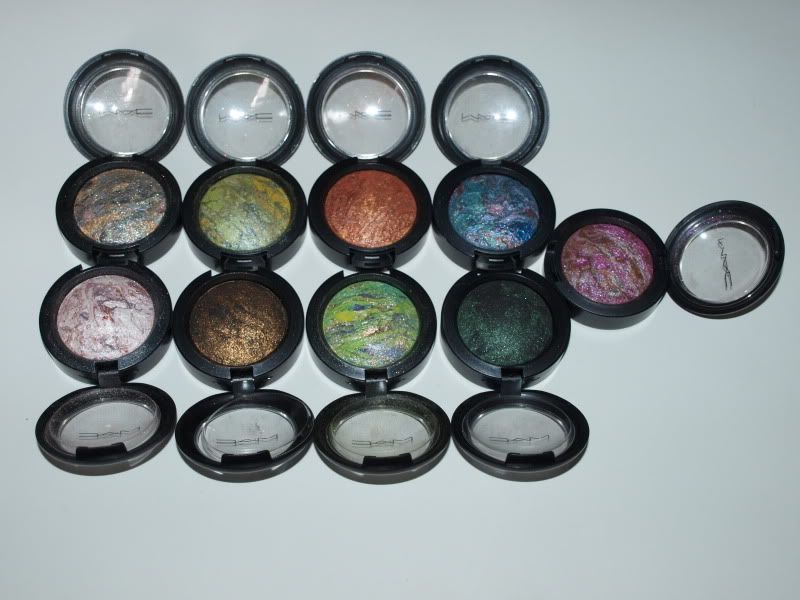 I'm so late for putting this up but I have had a good chance to test run them since I've had them. Every year MAC put out a mineralize collection and this year's offering was Semi Precious. I originally didn't plan on getting any of the eyeshadows because I'm not normally a fan of the mineralize formula. However, once I started seeing swatches coming out I loved the look of them, they seemed so multi-dimensional and beautifully sparkly. Not only that but they were gorgeous in their pots, I loved the marbled effect which resembled little planets. I ended up getting quite a few of them, 9 in fact out of the 12 available!
As with all mineralized products which have marbling, each one is unique even when they are the same product, the marbling can differ greatly from one to another. It is best to choose them in person from a store and you will be able to choose one which suits your tastes best. I didn't get a chance to go to a store so ordered mine online. I was quite lucky with the ones I received, they are all beautifully marbled and have good amounts of each colour within them, allowing me to pick out individual colours if I wish.
When picking out individual colours, you will probably need a smaller brush than whatever you use for base eyeshadow application but you can pick out areas and mix them together on the brush. I have successfully used numerous of these alone to create a whole eye look by picking out colours which is really easy.
Another fantastic thing about mineralize products is that because they are baked opposed to pressed, it enables you to use them wet. You can use regular water or I use MAC's Fix+ which I use by picking up the eyeshadow with the brush and then spraying the brush onto the brush. You could also spray it onto your lids and apply it onto your wet lids. When using the shadows wet it is called 'foiling' and it gives a more intense colour.
When using the colours dry, they will be sheerer but they still look beautiful due to the lustre of them, they have such a pretty dimensional effect on the eye and even with simple application using just one sweep across the lid, they make you look so awake and healthy.
Some of the colours have a smoother finish to others, Golden Gaze and Dark Indulgence are incredibly smooth, both having a black base. From other reviews I have read it seems that all colours with the black base are very smooth and intense even when dry. The next texture is also smooth but the colours aren't black based, they are Faux Gold, Mineral Mode and Rare Find. The next texture is slightly gritty due to the sparkle in the colours, they are Unsurpassable, Hint of Sapphire and Jade's Fortune. Finally, Clarity is a bit more grittier as it is very sparkly (not glittery), it doesn't tend to have fallout for me but a sticker base or wet application is best and patting it on rather than sweeping should prevent it too.
Swatched Dry:
L-R: Dark Indulgence, Unsurpassable, Clarity, Jade's Fortune, Faux Gold,
Hint of Sapphire, Rare Find, Mineral Mode, Golden Gaze
Swatched over Urban Decay Primer Potion: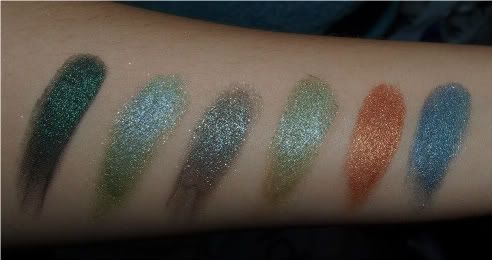 L-R: Dark Indulgence, Unsurpassable, Clarity, Jade's Fortune, Faux Gold, Hint of Sapphire
L-R: Rare Find, Mineral Mode, Golden Gaze
Swatched Wet:
L-R: Dark Indulgence, Unsurpassable, Clarity, Jade's Fortune, Faux Gold
Colour descriptions:
Clarity:
This is such a beautiful and unique shade, it is grey but it has so much sparkle in it in gold, blues, greens. It would work really nicely if applying over another colour for the multi-dimensional sparkle. My swatches really don't do this colour any justice at all, it is gorgeous in person.
Jade's Fortune:
This colour from what I have see differs a lot from each pan. I have to say that it is my least favourite out of all of the colours I chose. I ended up with quite a yellowy green which looks quite dull. I do like the blue shade in it however and can mix it into the yellowed green to darken it up. It is the least pigmented out of all of the colours I have. When using it on top of different bases you can get some nice effects, I will be doing a swatch post with examples of all of these colours over different bases.
Faux Gold:
This is a lovely coppery gold shade, beautiful sparkle. It is probably quite dupable but I own nothing like it. It is well pigmented and looks so nice with other golds. It would be stunning on someone with blue eyes.
Hint of Sapphire:
I have seen some bad reviews on this but personally, it is one of my favourites! It is a lovely shade of blue (or a few different shades as in my pan) and goes from subtle when used dry, more intense when over primer to really intense when used wet, like metallic foil. Beautiful. I especially like mine because it has a large teal blob in the pan and some pretty purpley parts.
Rare Find:
This is a very sophisticated purpley taupe shade. Mine is mainly taupe in the middle and purple around the edge. I love this with my green eyes, purple and green always look great together. It has a nice multi-coloured shimmery finish. When used over primer or wet is looks amazing, really jewel like.
Dark Indulgence:
This is a blackened green, I am a green fiend so had to have this (although it is supposed to be comparable to NARS Night Porter which I was going to buy instead but this was cheaper). I love the texture, it is so soft. When used dry it appears very smokey but used wet it is an intense deep blackened green, perfect for eyeliner if you didn't want to wear dark or bright eyeshadow. Love it.
Unsurpassable:
For me, this looks so similar to Jade's Fortune but in other swatches it looks much greener. Like I said earlier in this post, it really depends on the pan you pick. It is a light green with coppery sparkle, quite sheer when dry but better when wet. I was disappointed by this one too.
Golden Gaze:
Okay, if you are going to get any of these eyeshadows, this is the one which needs to make it home with you. It is perfection! Whether used dry or wet, it is strongly pigmented, smooth and looks fantastic on the eye. Used wet it is much more metallic.
Mineral Mode:
Another one of my favourites, it is a light rosey pink, I like it as a highlighting colour or all over my lid to give a polished look. When wet, it is much brighter and whiter and would look great as an inner corner glowy highlight. You could even use this as a cheek highlighter.
I will be posting another post for these eyeshadows over lots of different bases so give you ideas of other ways to use them. They give some impressive effects so look out for it.
Sorry for the long post, hopefully it helped if any of you were looking to get any of these colours!
Jennifer xx