I already had OPI Gargantuam Green Grape on my nails and wanted to jazz it up a bit. The colour reminded me of the stripes on watermelon skins so I decided that I'd do some watermelon nail art.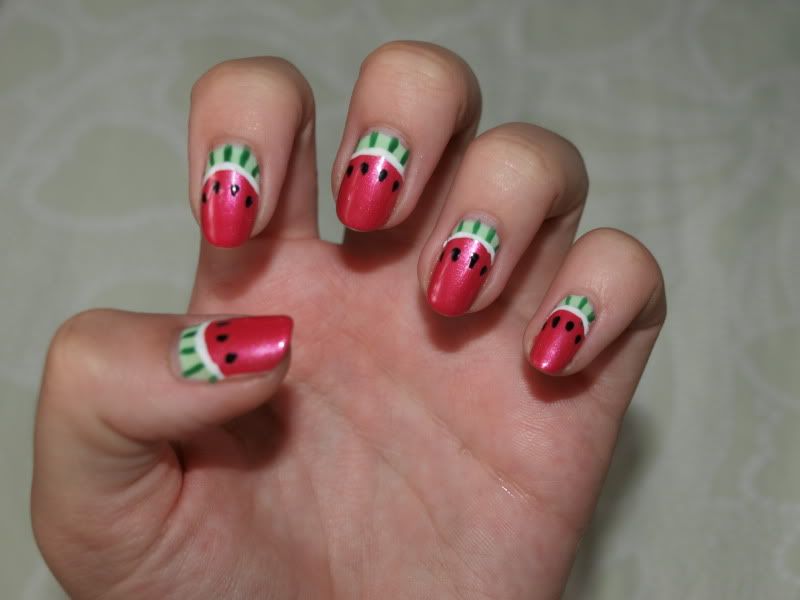 What I used:
Base colour: OPI Gargantuam Green Grape (light green)
OPI Come To Poppy for the watermelon flesh.
Rio Nail Art Pens for the white, darker green and black.
How I did it:
First apply base coat, I use OPI Nail Envy as a base and treatment - 2 coats, as per instructions.
Then apply two coats of Gargantuam Green Grape (or a light green).
Apply Come To Poppy in a semi circle shape, leaving a smallish gap in the green, one coat.
Let it dry and then use a green nail pen - I used the brush within - or a darker green on a detail brush to paint in the darker green stripes.
Use a white nail pen with a brush or white polish on a striper or detail brush to draw the white line between the green and pink, it will tidy up any mistakes and neaten up the edges of the pink if it isn't quite perfect.
Use a black nail pen and dot on little black dots for the seeds and before lifting the pen away, gently drag it down to create teardrop shaped seeds. You could use a toothpick or a teeny dotting tool instead with some regular black polish if you don't have a nail pen.
Let the polish dry and then apply a topcoat, I use Seche Vite. It is important to let the design dry first otherwise the topcoat will drag it.
I was really pleased how it came out and got quite a lot of compliments on them. I think Come To Poppy works well due to the iridescent in it which looks a bit like the flesh of a watermelon.
More pics!
What do you think?
Jennifer x