Hi guys, sorry I have been away for so long, I've been away at my boyfriends for a a week and a half and then I caught a cold and just didn't feel like sitting down to write when all I wanted to do was sleep. I was going to post this review while I was staying with my boyfriend but never got around to it so it is about time I put it up! I also have some photos of my holiday at my boyfriend's house in Sussex and I will do a post with some of them as soon as he gets them off his camera. So without further ado...
... MAC Me Over!
This collection was released at the beginning of September here in the UK and it had quite a few nice things in it, a lot of autumnal shades - deep burgundy lipstick, dark smokey eye shadows and auburn shades. It was put into three sections, each with a different 'theme', one was very dark (Shirley & Nicole), one was much lighter (Xee & Sharon) and the other was more natural and brown tones (Rachel & Ian). Most of what I bought was from Rachel & Ian's part, apart from one lipstick and the brushes.
First up, the most exciting part of the collection for me is the brushes. Two brand new brushes (one being a repromote and also limited edition) were launched with this collection. The illusive 226 which MAC fans have been waiting so long to be repromoted came back but only to remain as a limited edition sadly. Due to the amount of hype around this brush (and my love of MAC's brushes regardless) I purchased two of these as I knew that if I loved it I wouldn't be able to get hold of another until it came out again. Here is what they look like:
They are like a mixture between a 222 (for the thickness) a 217 (for length) and a 119 (for the tapered tip). They can be used in a few different ways, blending eyeshadow out, applying colour into the socket line, precision application to darken the socket, running colour along the lower lashes, putting colour into the inner corner and probably a whole load of other things that I can't think of. They are made of natural bristles so are not vegan friendly. They are lovely and soft and blend very nicely and effortlessly. A lot of MAC fans like this brush because it is tapered and I can see why as it makes crease work a lot easier. Unfortunately, as you will see from my next photo these brushes are a bit flawed...
Erm... yes they are both 226 brushes... Why are they different shapes MAC? The one on the left is much more tapered than the one on the right. The right hand brush is more fluffy and more along the lines of a 217 although thinner. MAC really need better quality control in their factories to get these right, I really don't understand how they can be that different because it makes them separate brushes in my opinion. I have also seen worse shaped brushes on other blogs/websites. Not good MAC! Now even though I am cheesed off with the shape difference, I still like both brushes. I just like my tapered one a bit more as it is more useful to me. Hopefully next time these brushes come out they will be more accurate!
The other brush I purchased was the brand spanking new 211 eyeliner brush! This is VERY exciting to me because I don't really like thin long liner brushes, I like more triangular tapered liner brushes like Bobbi Brown's ultra fine eyeliner brush. The 211 is more like that which I love, however this one is far more pointed allowing for even more precise application with ease (in my opinion). Some people will love the thin brushes such as the 210 and the 209 brushes but personally I prefer using these shaped brushes. It holds plenty of product so you don't need to go back to reload it much and I love that it is flat on one side so you can make the line thicker. I think this type of brush was seriously lacking in MAC's range so I am soooooo glad that they have this now. In fact... I think I may prefer it to my Bobbi Brown liner brushes!!! Good stuff here!
The eye shadows I bought were Mythical (coppery bronzed pink) and Carbonized (dark shimmery brown), both are Veluxe Pearls, my favourite eyeshadow finish by MAC. These two shades are very suitable for autumn, they remind me of falling leaves and are so pretty and pigmented. I've used them so much since getting them and found them to be really versatile. Mythical is really nice if you have blue eyes or, like me, green eyes as I have found that it makes them stand out really well.
L-R: Carbonized, Mythical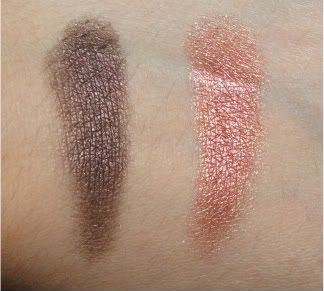 L-R: Carbonized, Mythical
Finally, I bought four of the lipsticks out of the whopping eight available! I got Secret Lover (lustre) which is a sheer pale pink with shimmer, it nudes my lips out a bit without looking ghostly and gives them a nice sheen. I really like this colour and it is a perfect shade to match with dark eye makeup. Next is Oh, Oh, Oh (lustre) which is a bronzey colour in the tube, really deceiving but on the lips it turns into a beautiful berry tone, very wearable with a nice gold shimmer, so autumnal. Both lustre lipsticks are moisturising on my dry lips, I always find that lustres are on me. Next is Peachstock (satin, permanent at Pro) this is a very peachy nude, very warm toned so probably best on warm skin tones. I didn't think I could wear this full on, instead I would need to dab it to sheer it out but I have found that I actually can wear it straight from the tube. I would pair it with deep green smokey eyes and a peachy blush to compliment. The last lipstick I bought is Runway Red (satin), this is a absolutely stunning shade of red, I think it is probably THE perfect red for me as it doesn't run too orange on me which is something that tends to happen on my yellow based skin. If you find that matte lipsticks are quite drying, then satin lipsticks may be better and give almost the same effect. I don't find this drying at all. I can't wait for the chance to wear this out, I will probably pair it with a neutral eyeshadow, a little carbonized through the socket line and Avenue along my lash line, black mascara and done.
Here is a picture of my natural lips for reference with these shades, no balm, just plain lips:
Secret Lover:
Oh, Oh, Oh
Peachstock
Runway Red
Jennifer x