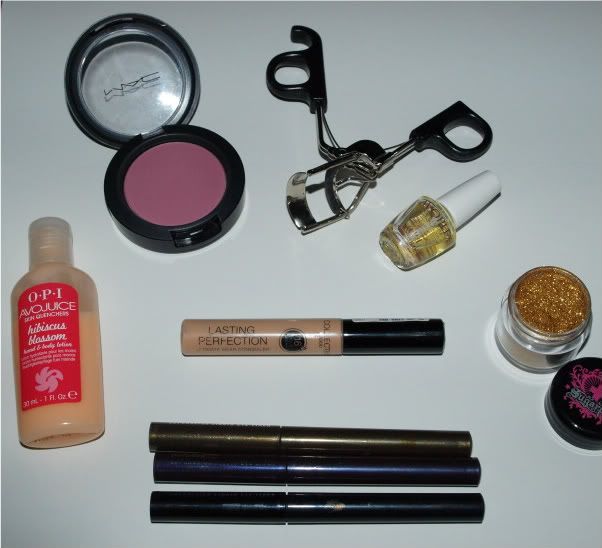 1. MAC Blush in Coygirl. This has been my go-to blush this month. It is a mauvy pink shade and gives a rosy glow. I've been using it just on the apples of my cheeks as I don't like it applied down my cheek bones as I normally apply blush, it is quite cool toned and can look a bit much on me like that. Used just on the apples it gives me the appearance of pinched cheeks.
2. Eyelash curlers (or as my boyfriend calls them, torture devices haha). These are from E.L.F and before this month I hadn't really used them much even though I've had them for a couple of years. I don't normally bother because I'm too lazy and I thought my mascara did the job on it's own. However I thought I'd try these again and I am really impressed with the difference they make. My lashes are much nicer looking when they have been curled and it is easier to apply my mascara. I've seen a lot of people raving about other eyelash curlers such as Shu Uemura so I wonder what the difference would be with them so might check them out when I'm next in town.
3. OPI Avoplex Cuticle Oil. I've been getting quite peely nails for a while so I've been trying to look after them better. I've been using this a few times a day, especially at night to let it sink in. I have noticed an improvement, they don't seem to be peeling as much so hopefully the oil will be doing good things to the new growth coming though.
4. Sugarpill Chromalust - Goldilux. I've been trying out loose eyeshadows as I've never really gotten on with them before without making a huge mess so decided it was time to practice with them. I really like this one, it is a beautiful gold colour and really sparkly. I like it to add a little bit of sparkle to my eye makeup. It can drop throughout the day so needs a sticky base or to be applied with a mixing medium/wet.
5. Collection 2000 Lasting Perfection Concealer. This product is becoming a favourite amongst beauty bloggers and youtube gurus. I can really see why, for a budget concealer it is fantastic... in fact it is pretty good for a concealer of any price range. It is one of the best concealers I have tried, it really does cover what it needs to and it does last really well. It dries down so doesn't crease around the eye area or look shiny but it doesn't dry the skin out either.
6. MAC Superslick Liquid Liners. I have three colours pictured here, the top one is Desires & Devices (khaki with pearlised pigments), the middle is Smokey Heir (purple with pearlised pigments) and the bottom is On The Hunt (black). These originally came out with Fabulous Felines last year but are now part of the permanent range. I used to use liquid liner all the time and then switched to gel liners but decided to use one of these one day and then remembered how much I loved them so ended up using them almost all month. They have a fine sponge applicator which allows you to get precise lines and flicks. These are definitely my favourite liquid liner formula. Other companies have released their own versions of these liners which are supposedly the same formula but I haven't tried them, some have their own unique shades too. Urban Decay, MUFE and Illamasqua are some of the brands with this type of liner.
7. OPI Avojuice - Hibiscus Blossom. This is a lightweight hand cream from OPI, I'm not sure if this scent is available in the UK as I got mine in a set from QVC which it was exclusive to at the time. It comes in plenty of other scents though. Even though it is lightweight, it moisturises really well, not well enough for when my eczema flares up but is good for a day to day hand cream which will not leave greasy marks anywhere because it sinks in so well. Avojuice is basically a whipped up version of OPI's avoplex oil so has all of the qualities of their cuticle oil but in a cream. This one smells gorgeous too.
Jennifer xx