Most makeup lovers will have at least one Urban Decay palette in their collection, they are so popular - especially their Naked palette. Now, if you are someone who likes their neutrals but also playing with brights, you need to get this one. It is fantastic. Really.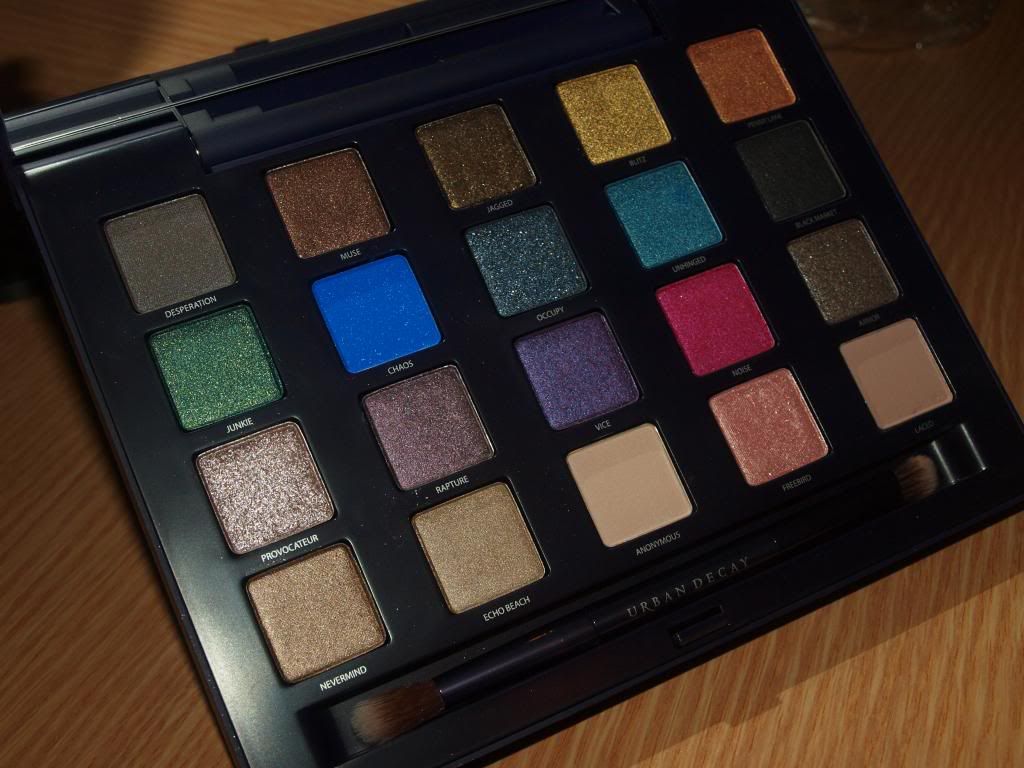 Almost every single colour in this palette is gorgeous, well pigmented, easy to apply, blendable and long lasting. It does however have a couple that aren't as great, one being pretty nasty for fallout and pigmentation - Jagged - shame because it is a lovely colour in the pan. I still don't feel let down though. Every single colour in this palette is brand new and exclusive to it which is great because a lot of UD palettes have crossovers. It is fantastic value at £42 for 20 shades and a double ended eyeshadow brush and all housed in a lovely palette complete with a full size mirror. £42! Bargain!
Read on for more and swatches.
Okay, lets start with the palette itself. Remember those Book of Shadow cardboard ones? Well this is so much better. The palette is plastic with a rubberised finish, similar to NARS products. It has the jewelled UD lettering on the top which looks really nice and simple. My favourite thing though is the clasp. It is a slow open press button clasp which gives a satisfying 'snap' sound when you close it. It is secure and is not going to open in your luggage and get smashed up. I also love that it is much slimmer than previous large UD palettes, no unnecessary bulk.
The double ended brush that comes with it is synthetic so great for vegans and anyone who prefers those brushes. Personally, I like natural hair brushes as I find they hold the powder in them better. These brushes are quite nice, one side is dense to pack colour on and the other end is for blending. They are well made and do the job well even though I still prefer my MAC brushes.
So onto the colours:
Desperation (greyish taupe brown matte-satin)
Muse (dark reddish brown w/golden and multidimensional shimmer)
Jagged (matte black base w/gold metallic)
Blitz (bright gold metallic)
Penny Lane (bronze metallic w/gold glitter)
Junkie (dark green-blue w/gold shimmer)
Chaos (vibrant royal blue w/very subtle shimmer)
Unhinged (electric turquoise blue metallic)
Occupy (dark grey-blue metallic)
Black Market (dark charcoal black matte-satin)
Provocateur (light greyish pink w/lots of multidimensional glitter)
Rapture (dark greyish purple w/multidimensional shimmer)
Vice (dark eggplant w/subtle red shimmer)
Noise (dark reddish-pink metallic w/big gold glitter)
Armor (greyish brown metallic w/silver micro-glitter)
Nevermind (light taupey-brown shimmer)
Echo Beach (light wheat-champagne shimmer)
Anonymous (light whitish-pink nude matte)
Freebird (light peachy-pink w/silver micro-glitter)
Laced (pinky-taupe matte).
L-R: Provocateur, Rapture, Vice, Noise, Armor
Fourth row
So the swatches speak for themselves, almost all of the colours are really good apart from Jagged which is sheer and chunky. Maybe it could be used over the top of another colour to add some sparkle. I also think that Provocateur is quite chunky and fallout prone. Overall, it is a great palette and worth checking out.
Jennifer xx