MAC's collaboration with Iris Apfel is a lovely collection, the lipsticks for me are the stars. They are all beautiful colours with fantastic quality. There are 5 shades, Flamingo, Party Parrot, Pink Pigeon, Scarlet Ibis and Morange. Morange is permanent. I purchased all of the other 4 shades.
L-R: Flamingo, Party Parrot, Pink Pigeon, Scarlet Ibis
L-R: Flamingo, Party Parrot, Pink Pigeon, Scarlet Ibis
Continue reading for review and more photos
Flamingo
This lipstick is a sheer coral pink which is more pink than most corals. It has a lustre finish. It is a really nice everyday lipstick and my favourite sort of lipstick colour as I am a coral lipstick addict. It should flatter most skin tones but will work differently on different natural lip shades due to the sheerness as your natural lip colour will come through. On my arm it appears more coral than it does on my lips which is has more pink - though it isn't as pink as these photos show, for some reason it came out brighter on camera.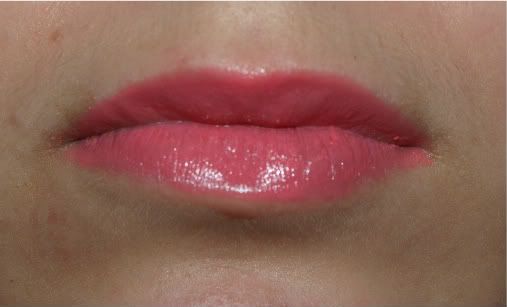 Dupes?
I have no exact dupe but the closest I have is MAC's Blossom Couture Sheen Supreme lipstick which is glossier and not quite the same shade. Jazzed is much more peach and more pigmented. Ever Hip is closer but is still more peach than Flamingo. I have misplaced my tube of Ever Hip to do a swatch comparison but it is a more subdued version of Jazzed and not as sheer as Flamingo.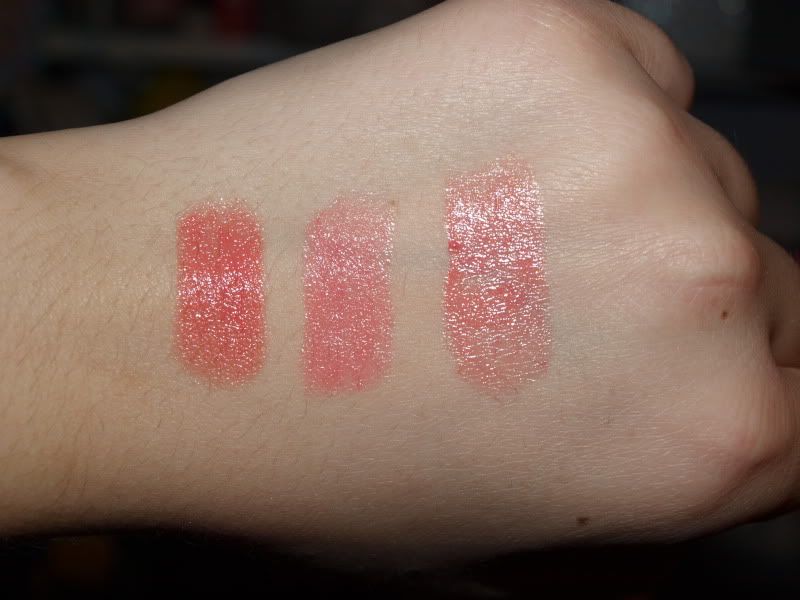 L-R: Jazzed, Flamingo, Blossom Couture Sheen Supreme
Party Parrot
This shade is so amazingly bright, I love it. It is a reddened pink and very loud, really not a shade for everyone but still can be very wearable with the right makeup. It has a matte finish and is not drying. On some skin tones it may appear a bit more pink than on others due to undertones. It wears really really well, I wore it from 7.30am and only had to reapply after lunch at around 2pm because it was a little patchy. I then wore it until dinner at around 7pm when I decided to wipe it off to apply some lip balm as I hadn't worn any all day and my lips are very very dry at the moment due to the cold weather. I went to bed at 11.30 and it had stained so I needed to give it a bit of a rub with makeup remover. The next morning my lips were still a little stained! This lipstick likes to stay put!
Dupes?
Again, I own nothing alike it. The closest I have is Full Speed Sheen Supreme lipstick which is a completely different finish, is lighter and more pink. I also compared it to Full Fuchsia which is a very bright fuchsia pink to show you how bright it actually is.
L-R: Full Fuchsia, Party Parrot, Full Speed Sheen Supreme
Pink Pigeon
This is a very bright blue toned pink. It is not quite neon but it is still in your face. It is has a matte finish and not drying. It is smooth to apply, like Party Parrot. With simple eye makeup and this shade as your bold lip colour, it can look really nice. It should compliment most skin tones nicely, I think the contrast between the lipstick would look amazing on fair skins.
Dupes?
I don't own a dead on dupe but it is very close in colour to Show Orchid but it has a matte finish instead of Show Orchid's amplified finish. It is also near Candy Yum Yum although darker. Candy Yum Yum is far more neon but it could be good enough for those who missed out on Candy Yum Yum.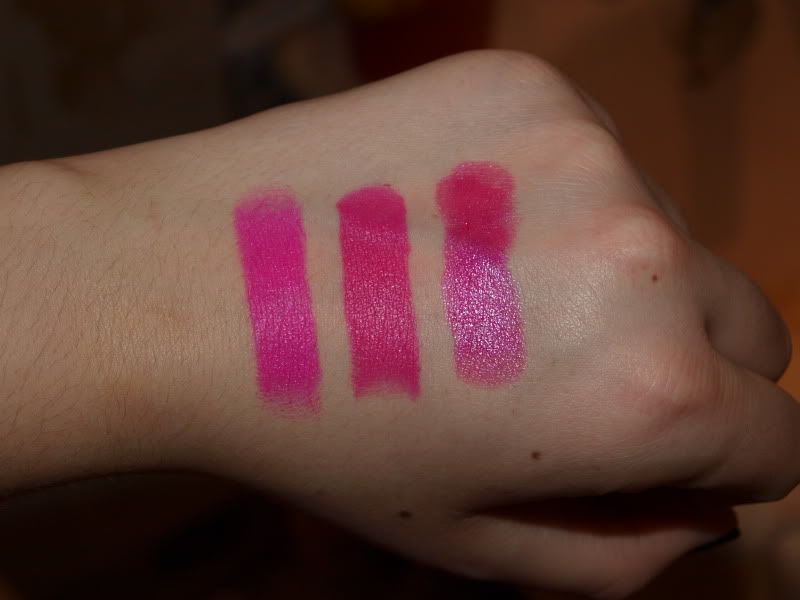 L-R: Candy Yum Yum, Pink Pigeon, Show Orchid
Scarlet Ibis
This is a very bright reddened orange. It has a matte finish. It is a more unique way of wearing a red, more modern opposed to classic I think. It would be particularly flattering on warm toned skin but I don't see why someone with cool skin couldn't wear it. Like the other two matte lipsticks, it applies really smoothly and lasts well, leaving a stain behind as it fades. It can however be the kind of shade that can make teeth appear yellowed. My teeth normally look quite white but they seem to have a slight yellow tinge when I have this colour on although it isn't enough to bother me.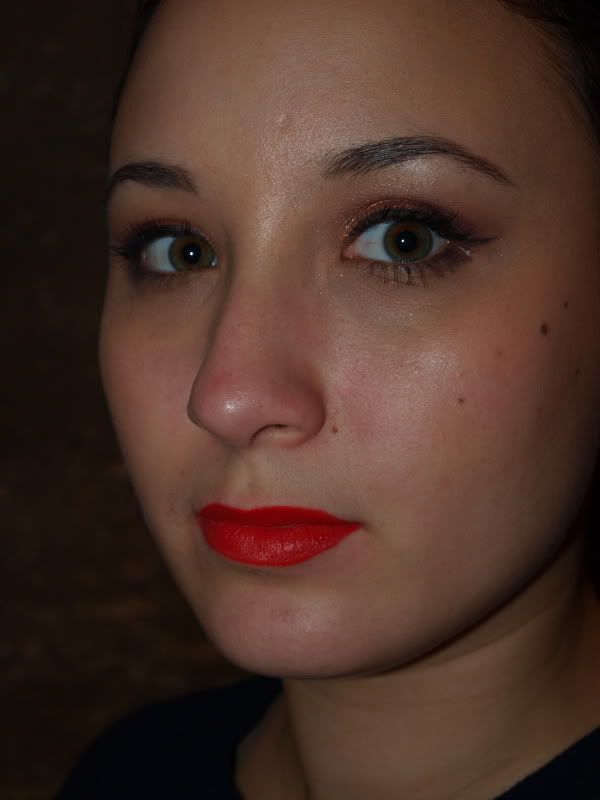 Dupes?
The closest I have is Toxic Tale which is a satin finish so has a slight sheen to it. It is also more pink whereas Scarlet Ibis is far more orange red, almost a true vermilion shade.
L-R: Scarlet Ibis, Toxic Tale
I love bright lipsticks so I think these are all fantastic. If you like bright colours or want to try them out, these are all great formula wise, long lasting, non dragging and comfortable matte lipsticks and Flamingo is a really pretty everyday shade which will add a bit of moisture to lips.
All are limited edition so grab them while you can. They are only available online at
www.maccosmetics.co.uk
£13.50 each.
Jennifer x
p.s sorry about the application of these, I did them really quickly just to show the colours.