Another one of LUSH's new products to celebrate their 16th birthday. This one is a ballistic and is the same shape as their existing Vanilla Fountain. It is a gorgeous purple colour with gold lustre all over it which is difficult to see in the pictures.
Here's what LUSH say about this ballistic:
'All the myth and magic of a phoenix, pressed into one bathtime experience, which lets you arise at the end feeling refreshed and ready for the next 500 years.
Your phoenix will sink to the bottom then rise in triumph, her mythical sparkling purple and green plumage unfurling through your bath water.
She'll release gentle shea butter, cocoa butter and jojoba oil to leave your skin feather-soft. Exotic essential oils of fruit and spices take your mind on a flight of fancy to distant shores where you are lying on a beach drinking spiced rum.
Actually, you won't want to rise again from this bath – you'll want to just stay on in there gliding on the dream! The phoenix is often quoted as using cinnamon sticks to make her nest. So we've topped this ballistic with some, so she has some handy nesting material, should she wish to stick around at yours for a while. Meanwhile, it will also add to the delicate spiciness of your bath.
The work on this website had been going on in the background at Lush for quite some time. Having a current website trading plus a new one that is being built made for very confusing conversations when talking about things for 'the website'. To end the confusion, we gave the website under construction the name Phoenix.
So Phoenix has been very much on everyone's mind here at Lush; not least Jack, who has been working on it for over a year. When he went into the lab to invent new ballistics, he couldn't shake his mind free of it – and thus we now have a Phoenix Rising ballistic!'
Ingredients:
Sodium Bicarbonate,
Citric Acid, Icing Sugar, Cocoa Butter
, PEG-6 Caprylic / Capric Glycerides & PEG-60 Almond, Perfume,
Bergamot Oil, Cassia Oil, Organic Jojoba Oil, Fair Trade Shea Butter
,
*Cinnamal, *Citral, *Limonene, *Linalool
, Colour 45410, Colour 42090, Colour 77891, Colour 77491, Colour 77510, Frosty Holly Lustre,
Gold Lustre, Cinnamon sticks
*occurs naturally in essential oils
This product is suitable for Vegans.
£2.95/100g
When I first opened this to give it a stiff, I was hit with this very intricate smell, it smelt complex and alluring and made me want to keep taking more sniffs at it to figure out what was in it. I smelt spices in the background with the main event being fruity berry notes. This is they type of scent that LUSH used to make back when I first got into the company, unique kinds of fragrances. Then they went very samey, products were released with the same scents in them and there was very little for me to choose from that I actually enjoyed using and smelling of. I'm so glad that LUSH have created this, it takes me back to when I first fell in love with their products and reminds me of some products which are sorely missed amongst longtime LUSH fans.
After an afternoon of gardening and ending up with an achey back I decided to use this ballistic to help ease my muscles. Spices are good for relieving aches and pains and LUSH stock a few different things for this purpose, such as Wiccy Wiccy Magic Muscles massage bar. Unlike that massage bar which is so strongly scented with spices and makes me feel like I've fallen into a sack of allspice, Phoenix Rising is more subtle. The spices sit nicely amongst the fruit so not to be so offensive so someone who isn't a hardcore spice fan. Still, it does the job very well, I felt unbelievably relaxed in the bath, when it was time to get out I actually found it difficult to stand as I was in such a daze haha! It was lovely :D I wish I could have stayed in there for longer.
From LUSH's description, I gather that the ballistic is supposed to sink to the bottom and fizz away before rising to the surface as it releases the purple and green colours inside. Mine didn't do that, it floated on top. I don't mind and I didn't realise it was supposed to sink as all of the other ballistics I've tried were supposed to float.
The water turned a lovely bright purple shade BUT BEWARE, if you have blonde hair, specifically if it is bleached, it may actually colour your hair! I had a white face cloth which I dropped into the bath and it came out a fetching shade of lilac. I also read one of the reviews on LUSH's website where someone who did have peroxide hair ended up with lilac hair instead. So don't submerge your hair with this one, maybe wear a showercap to be safe!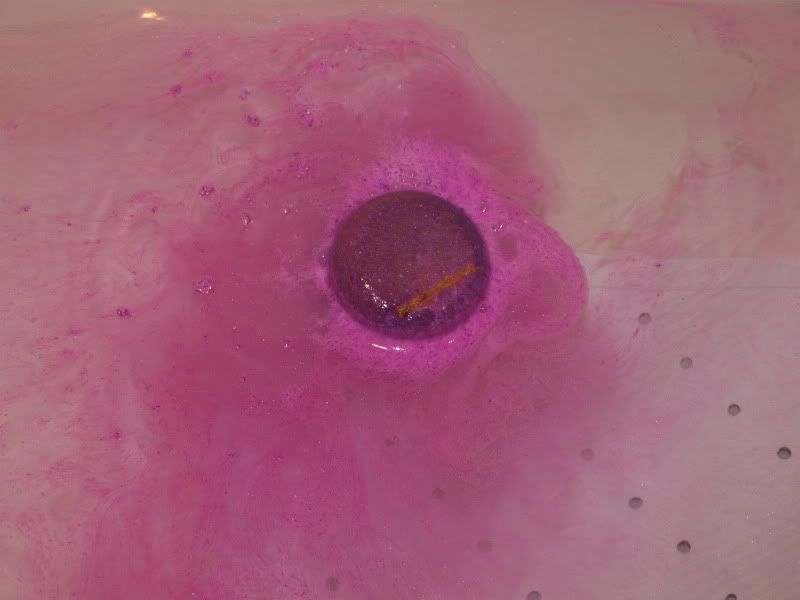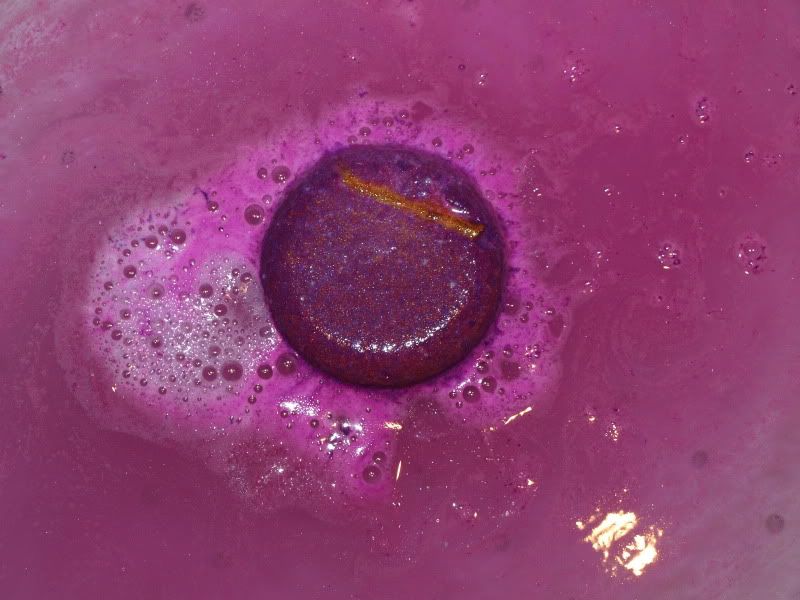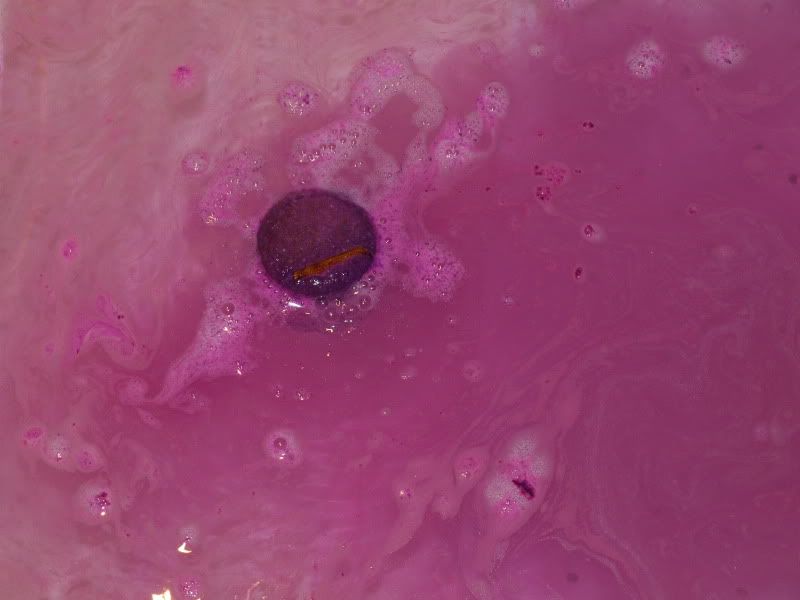 I really enjoyed using this ballistic and would definitely buy it again, especially for using when I have aches and pains or when I need to relax. The scent lingered well so I was very happy.
Jennifer