Here are a couple of Eyeshadows and a Chromagraphic Pencil I picked up from MAC's Fall Colour collection. All are part of the 'Wild Colour' section which consists of some amazingly bright colours. I chose Three Ring Yellow and Royale eyeshadows and Hi Def Cyan Chromagraphic Pencil.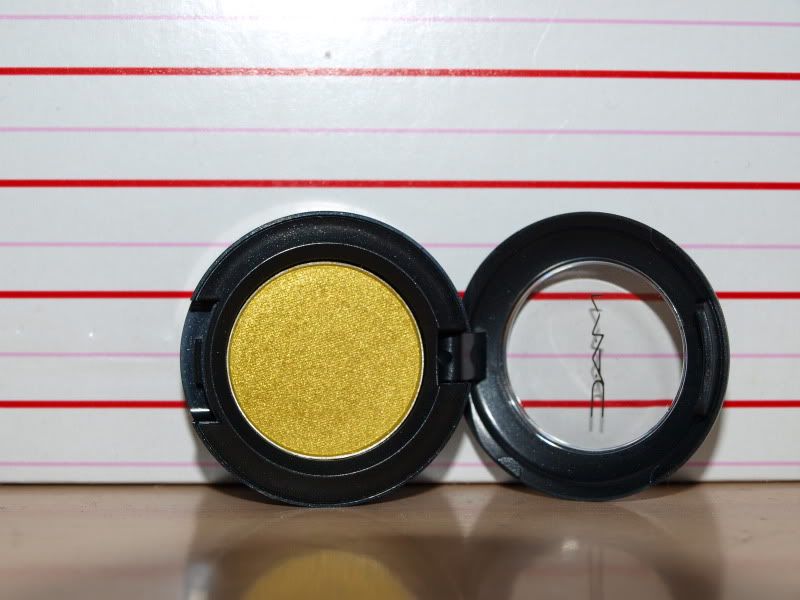 Three Ring Yellow

Royale
Three Ring Yellow is a bright yellow with a green undertone. It is a Veluxe Pearl finish so is very soft and pigmented. It is easy to blend and work with. I like that it has the green undertone so it isn't a straight yellow, some people may find it easier to wear due to the green in the shade. It is quite similar to Sweet & Punchy eyeshadow which came out last year with the To The Beach collection. If you have this colour you may not want to get Three Ring Yellow. Sweet & Punchy is more of a yellowed green apposed to a yellow with a green undertone, in other words, Sweet & Punchy is more green. Sweet & Punchy is also a Veluxe Pearl and a little more pigmented.
Royale is a deep blue with a purple undertone (I found this a very difficult colour to capture so these pictures are not accurate). It is a matte finish so can swatch a little chalky but when used it works really nicely. It is a little sheer but still pigmented enough although may require a bit of building if strong colour is required. If so, a shader brush such as the 239 would be best for that. I used it in my crease with a 217 to crease diffused blending but built it up where I wanted.

L-R: Three Ring Yellow, Royale
L-R: Three Ring Yellow, Sweet & Punchy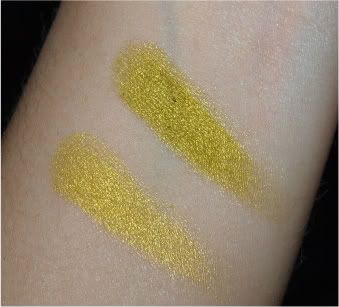 Top: Sweet & Punchy
Bottom: Three Ring Yellow
Chromagraphic pencils are a new product to me but I read really good reviews about Hi Def Cyan so decided to try it out. It is a lovely cyan shade, I really like to use bright blues and teals along my lower lashes so I knew I'd get use out of this colour. I am really impressed with it, it is so creamy and pigmented in just one swipe. It dries down and doesn't move at all until you take it off and even then it doesn't want to come off! Chromagraphic pencils are PRO products so are available all year round at PRO stores or via phoning mail order if you do not have a store near you. It is nice to be able to get a few of the colours at regular stores in the meantime though. Some shades are not eye safe, this particular colour is not suitable for the inner rims (waterlines) of the eyes but can be used along lash lines or on the lids.
I highly recommend the Chromographic pencils and I would like to get the green and one of the nude shades when I go to the PRO store as they perform so well.
Jennifer