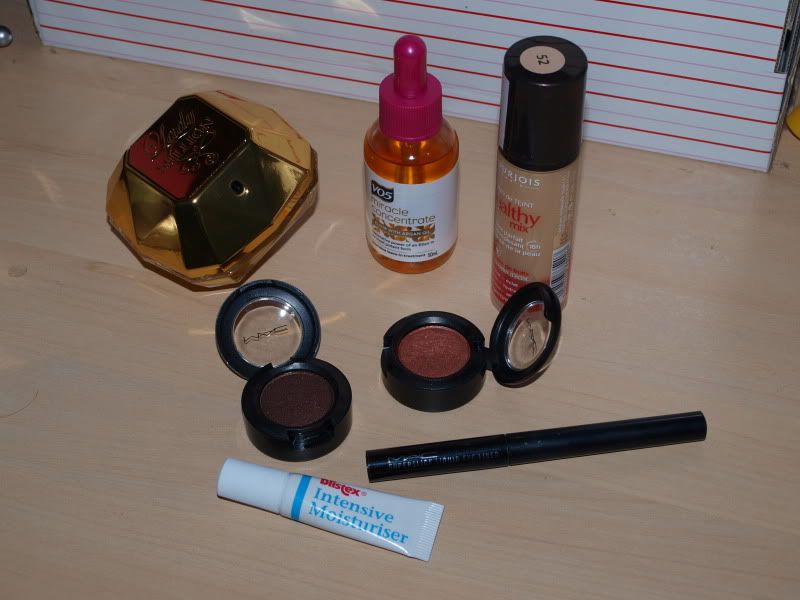 Here are my favourites for September, there was quite a variety of brands in there.
First up, a new perfume. One of my favourite bloggers, Vivianna from
viviannadoesmakeup.com
is a big perfume fan. I have noticed that we have quite similar taste in perfumes and when she said that this was her favourite perfume I decided to give it a go. It is Lady Million by Paco Robane. I would never have picked this up, the packaging isn't something that would have drawn me in, probably due to being a mega shiny golden diamond shape which doesn't really look very classy, although I do like it now for being a bit different. The perfume inside is gorgeous though, a typical 'me' type fragrance, floral and fruity with a bit of sweetness thrown in there for good measure. It isn't a headdy sweet or floral fragrance, I think it has a good balance. Top notes of Neroli, Lemon and Raspberry. Middle notes of Jasmine, Orange Flower and Gardenia. Bottom notes of Patchouli and White Honey. Yum!
Next there is VO5's Miracle Concentrate. I've seen this doing a little bit of the blog rounds with people saying that it helps with frizzy hair and keeping it looking glossy and healthy. I needed this. I use this after towel drying my hair then apply a few drops from the pipette into my hand and rub them together before running it down my hair. I focus it in the ends to stop them from flying away and then do the lengths and finally the top to smooth it all down. Then I blow dry my hair. It makes my hair dry quicker and always gives it a sleek finish.
I also ran out of my foundation, Chanel Vitalumire so needed to get a replacement but wasn't anywhere near a Chanel counter. I'd wanted to try Bourjous Healthy Mix after hearing a lot of good reviews so this was a good opportunity. Off I went to Superdrug and picked this up for £9.99, over £20 cheaper than my Chanel foundation! I found a really good match in Healthy Mix, better than the Chanel shade. It is a teeny bit lighter in colour and not as yellow. I really like this one, the coverage is a bit more than the Chanel one and it sets more so doesn't appear as dewy but still gives me a fresh complexion. I've been applying it with a MAC 187 and I get a really nice finish. I would definitely buy this again, I much prefer it.
The two eyeshadows are from MAC's MAC Me Over collection, I reviewed them
here
. The colours are Carbonized (the brown) and Mythical (the coppery colour). I've been using these a lot during September, they are so flattering and fit so well with Autumn. They go with a lot of my clothes too and are great for work. I've put them together in a few different ways and they always come out looking nice.
Underneath is MAC's Superslick Liquid Liner in On The Hunt. This is black and was in my favourites last month too. I've been using this pretty much every day. It is such a good glossy black and lasts really well.
Lastly, Blistex Intensive Moisturiser Lip Cream. My lips get ridiculously dry and chapped. I needed something intensive that was going to work. I saw this on Rachel's blog
allthingsrachy.blogspot.com
ages ago when she said that she gets very chapped lips when she has a cold and this is what she uses. I'd been meaning to give it a go and saw it in Boots one day and remembered her blog post so bought it. She was so right, it is amazing stuff! Seriously, if you get chapped lips and nothing else seems to be giving you the desired effect, go get this. It was relatively cheap at £2.59. It has a plastic slanted applicator so you can apply it straight from the tube. I tend to put a little on my finger and apply it like that so I don't put too much on, you don't need a lot.
Jennifer xx