I really love Deborah Lippmann's nail polishes. Yes they are expensive but she brings our such pretty and unique colours and the cream polishes have a really good formula. They feel decadent to wear and last really well with only minor tip wear. I also really like the bottles (I will do a review of my Lippmann polishes at some point in the future so you will see them there).
One of her new polishes for the Spring is Glitter In The Air, the other being Naked which is a nude colour. I've been eagerly waiting for Glitter In The Air to come out in the UK as I think the Lippmann glitters are really special, you rarely see anything like them. A lot of them have different sized glitter particles as well as hexagonal glitter shapes. This one is one of those. It is in a very sheer baby blue base and has light blue and pink glitter particles in it and light blue iridescent micro shimmer which I didn't even notice until it was sparkling in the light so was a nice surprise.
When you apply it you do need to be careful as the hex glitters need to be positioned where you want them to make them look even. The effect is so worth the effort though. The polish is very sheer so is best used as a top coat but you can use a few layers and get a semi sheer effect if you want. To get the bottle colour you would need to pick a similar shade of baby blue and then layer the glitter over the top.
I decided to do a french manicure and then add this on top. Here is what I came up with!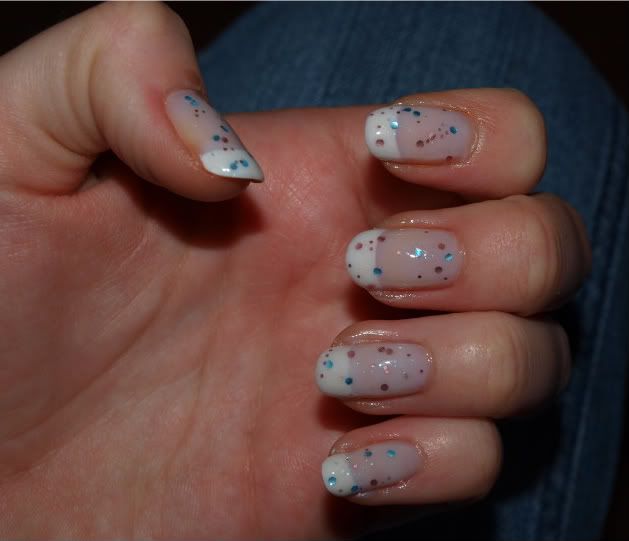 More pictures and what I used...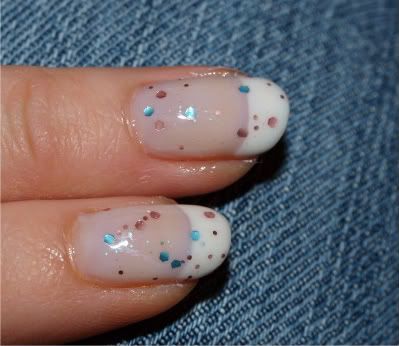 I hope you can see the lovely hexagonal glitter in them. The iridescent sparkle is barely visible in these but it is there in real life!
To do this
I used:
Leighton Denny Pure White for the tips, roughly painted on.
Leighton Denny Precision Corrector to clean up the tips with a little brush (an easy way of doing a french manicure).
Leighton Denny Starkers for the french colour.
Deborah Lippmann Glitter In The Air over the top.
Seche Vite to finish it all off.
I really liked this and it made a nice change to the bright nails I've been wearing recently. What do you think?
- Jennifer