Hiya! I hope everyone in the UK is enjoying their start to the Bank Holiday weekend, sucks if you are working though :( Thankfully I am staying at my boyfriend's house which is nice to have a little break from London for a few days.
L-R: Morning Rose, Mimosa
L-R: Morning Rose, Mimosa
Today I have a review of two of the Chanel Summer nail polish colours, the highly anticipated Mimosa and beautiful Morning Rose. There was also another shade released called Beige Petale but that didn't appeal to me at all, I loves my bright colours! As soon as I saw the press releases for these I just loved the yellow shade. I only had one yellow polish, Barry M yellow - do not recommend unless you want to have finger that look like they've been dipped in a pot of American mustard... bleugh, not a good look and I was actually told by somebody else that is what my nails looked like :( Chanel's offering looked much more flattering.
I recently did a post on OPI's Fiercely Fiona which is a really pretty yellow but Mimosa is quite different, it is brighter and is shot through with a pretty golden shimmer which gives the colour some depth so it doesn't look flat. Chanel are very good at putting trendy colours out there but making them flattering.
Morning Rose is a jellyish colour and again shot through with gold shimmer although bigger particles in this shade. I wouldn't say it was a proper jelly because it is quite opaque but you can see the shimmer floating within the polish just like in a jelly finish. I found capturing the glitter difficult for both of these colours because the sun refused to come out and it has been horrible in London for the past few days so I couldn't re shoot the photos unfortunately. The pink is a nice flattering shade, it is a medium pink and has slight peach tones in it. Both of these colours are perfect for Summer.
Application was smooth on both, Mimosa needed a third coat to get true bottle colour and I used a third coat of Morning Rose because I didn't paint the second coat very well but I think a third coat gives it a bit more depth with the extra shimmer going through it. The polishes retail at £17 so they are expensive but Chanel often bring out really unique shades which you can't get elsewhere. The bottles hold 13ml/0.4fl oz of lacquer.
Here are a few pictures at different angles, hopefully the shimmer is visible in some of them. Mimosa isn't quite as bright in real life, I'd say one shade lighter but Morning Rose is pretty accurate on my screen.
L-R: Mimosa, Morning Rose
L-R: Mimosa, Morning Rose
L-R: Mimosa, Morning Rose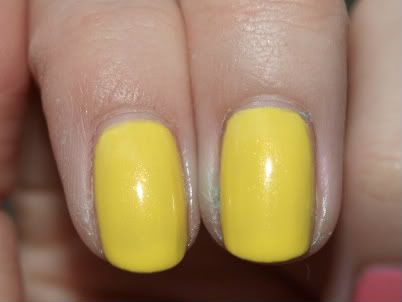 Mimosa
Morning Rose
I think they are sold out online now which is a shame so if you would like these colours I would call/visit your local Chanel counter to see if they have it there.
- Jennifer