I've been so slow at putting my review for these up so I apologise but it did give me a chance to test them out for a while! I really loved the idea for these, a lip product which had the shine of a gloss and the feel of a lipstick. It sounded right up my street and I'm pleased to say that now I've got some of them, they are really nice. The aren't as glossy as a gloss and definately aren't sticky. They hug your lips like a lipstick and are really pigmented. I went for the brighter colours as the paler ones didn't appeal to me and seemed quite similar to each other. Like all MAC lip products, these are vanilla scented (I actually found these to be a bit stronger than normal) but the smell fades after a little while.
The products come in long skinny tubes with a doe foot lip gloss applicator. They are quite easy to apply but you may choose to use a brush for the very dark colours to get precision application. They are lightweight and don't feel like you are wearing much product on your lips. They are smooth and don't show up imperfections or gather in lines (the colours I have). I do like to use a liner with them though as dark lipstick tends to move out of my lip area or smudge when I use them and it also helps me to get crisper lines. For the swatches, I haven't used any, they are the colours alone. The outside of my mouth probably looks a bit red for some as I did all of the swatches in one session and they got a bit sore from removing them. This brings me to my next point, they don't come off completely and can stain so their wear is prolonged.
I wore Scandelicious yesterday, applying it at around 9am and had lunch at about 1.30 and it was still there although fading a bit since I'd eaten. However, it failed the kiss test miserably. My poor boyfriend was left with a lovely lip shaped impression on his mouth haha. Strangely it didn't transfer onto my glass when drinking though.
The colours I picked were:
Temper Tantra - red tinged brown.
Scandelicious - bright pink with shimmer which seems a little blue.
Exxxhibitionist - brightened redish coral.
Love Peck - dark brownish red.
Strut Your Stuff - oranged based red
Flaunting It - light pinkish plum.
Read on for photos and swatches...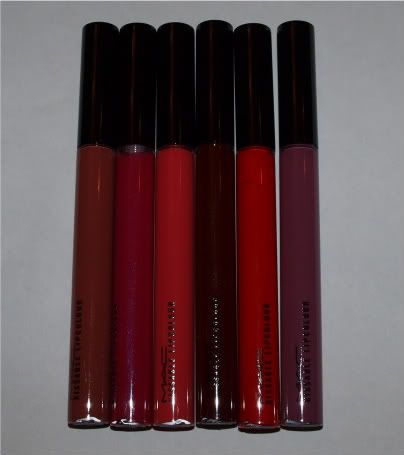 L-R: Temper Tantra, Scandelicious, Exxxhibitionist,
Love Peck, Strut Your Stuff, Flaunting It

Temper Tantra

Scandelicious
Exxxhibitionist
Love Peck
Strut Your Stuff
Flaunting It
Sorry about the quality of the lip swatches, I took the photos too far away due to shadows effecting them if I zoomed my lens in (crappy lighting) so after I've cropped the photos they were a bit small so I've put them up a bit bigger and now they're slightly blurry. Will have to rethink about lip swatches in future...
- Jennifer