This month it took me a while to choose my favourites as I've been switching between products quite a lot. I'm fickle like that haha. Also, apologies for the quality of this photo, you may notice them not coming out so bright for the time being, I just don't get a chance to use daylight at the moment unless it I do my photography at the weekend. I'm going to try to take lots of swatch photos during weekends when I can take advantage of the daylight so that I have them done for when I post during the week. Anyway, here is what I picked this month: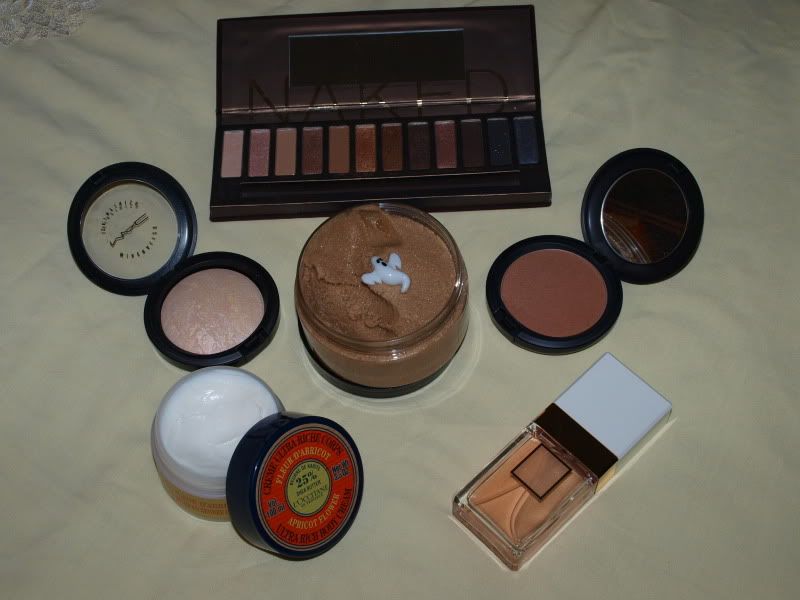 Urban Decay Naked Palete
You have probably seen this thing everywhere, all over the internet but I truly love it. The colours are so easy to use and work well together in pretty much any combination. It is a foolproof palette and is very flattering. It is a really good staple to have in your collection and many people will find that these are the only neutral shades they need... unless you are a hardcore makeup fanatic!
MAC Lightscapade
This came from one of the recent collections from MAC. Mine isn't one of the most beautiful pans of this but it is still lovely. It gives me a nice glow to my cheek bones and has made it's home in my everyday makeup bag.
Enchanted foaming sugar scrubs (Gingerbread Ghosts, from the Halloween line is pictured but I have been loving the scrubs in general). I doubt many people have heard of Enchanted Bath and Body, if you haven't, I suggest you head over to
enchantedbath.co.uk
and have a look. I've been a fan of Sarah's scrubs for a while, in fact a like a lot of her products. She is a one man band at the moment but she works amazingly hard to get her orders done to top notch quality. If you have heard of or are a fan of Isle of Eden, Enchanted makes a great alternative to anyone based in Europe. Sarah will ship further afield too however. The Halloween line will be discontinued soon so get in quick if any take your fancy. I will get a quick review of my latest order up soon.
Bronzer
I have been using bronzer to contour my cheeks a lot this month, mainly this one which is MAC's Golden. It is subtle and most suited to lighter skintones. It has a very subtle shimmer in it but is still fine to use for contouring. I've also been enjoying NARS Laguna.
L'Occitane Ultra Rich Body Cream
My skin especially on my legs is very dry. It gets worse after shaving but I normally hate using body moisturisers as they take ages to sink in and they make it hard to get dressed after using them which is not good if you like to wear skinny jeans like me. This one is different, it sinks into my skin so quickly even though it is so thick. You can hold the pot over your head and it wont come out. It has 25% shea butter in it which helps so much with my skin. My skin is much more supple and glowy than it was before and best of all, it no longer flakes!
Chanel Coco Mademoiselle EDP
This was a birthday present from my Grandad. It is such a beautiful and sophisticated yet youthful perfume. I always thought that Chanel perfumes were a little too mature for my liking but I adore this one. If you have smelt Miss Dior Cherie, it is on a similar line to that but it doesn't smell the same to me. I find this one more sophisticated and elegant, not as sweet and the end of the perfume has a lovely muskiness to it. I find that it smells different on me every day, I never know exactly what I'm going to get so it makes it even more enjoyable to wear. Amazing thing, skin chemistry!
Jennifer xx