I hope everyone enjoyed Bonfire Night. I love it, it is one of my favourite times of the year. Being British, the 5th November is an important historical date for us. To celebrate, my boyfriend and I went to a firework display which we have been going to for three years running. It is in Edenbridge Town, in Kent and they put on a fantastic show. They hold a procession down the high street with bands and floats. People dress up and all of the local children who take part seem to enjoy themselves so much. After the procession everyone makes their way to a nearby playing field where the fireworks will be held. There are stalls selling burgers, hotdogs, candy floss, toffee apples and hot drinks plus a teacup ride and fairground game for the littleuns. On the other side of the field stand two huge wooden figures, one of Guy Fawkes and the other of that year's 'celebrity Guy'. This year was the turn of Manchester City player Mario Balotelli, the footballer who managed to set fire to his bathroom with a rogue firework during a party... haha! After they have set fire to each Guy, the fireworks start and they are fantastic and enormous. I love going there.
As it was a special day, I decided to do a special manicure to go with it. I wanted to paint fireworks on my nails and this is what I came up with.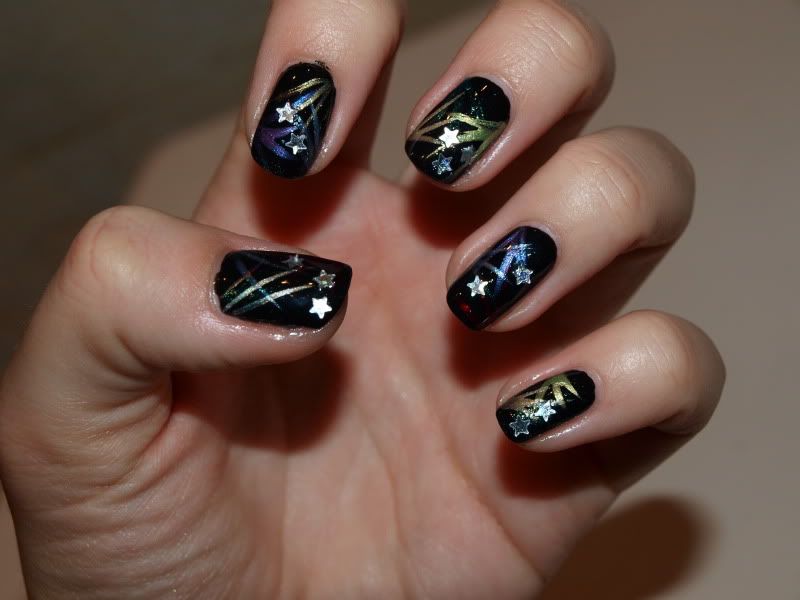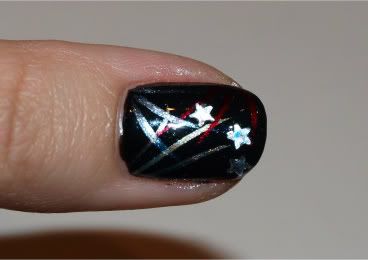 I used:
OPI Nail Envy as base coat
China Glaze Liquid Leather as the base
Rio Nail pens from the metallic set
Orly Halley's Comet for some of the fireworks (hard to see in these photos)
Silver stars are some nail embellishments which I got as a free gift at some point
Thick coat of Seche Vite to seal the stars in place
If anyone doesn't know what Bonfire Night is and why we celebrate, here are some links to explain.
"Remember, remember the 5th of November
The Gunpowder, Treason and Plot,
I see no reason why gunpowder treason
Should ever be forgot.

Guy Fawkes, Guy Fawkes, 'twas his intent
To blow up the King and Parliament
Three score barrels of power below
Poor old England to overthrow,

By God's providence he was catched
With dark lantern and burning match
Just about to light the prime
Caught him in the nick of time.

Holla Boys, Holla Boys, ring boys ring,
Holla Boys, Holla Boys,God save the King."
Jennifer xx