Back to front: Pleasure Principle, Love Alert, She-Zam, Spanking Rich, Dressed to Dazzle

There are six Dazzleglasses in MAC's Glitter & Ice collection. Some are brand new, others are repromotes or permanent so it is worth checking your collection to see if you already have any of them. Dazzleglasses are probably my favourite type of MAC glosses. They aren't too sticky but stay around for a while and you are often left with a bit of the glitter on the lips once the colour has worn off so you still have something of interest there. They tend to be on the sheer to colourless side with the colour coming from the glitter, although there are the odd few shades which do have colour in the base but they are far from opaque. They are popular to layer over lipsticks to add an extra something but I also like to use them alone as I find them pretty regardless. I bought five of the six colours available due my love of them and their versitality. The only bad thing about them is that they are a little pricier that the regular lipglasses and you get less product which is annoying. Debenhams currently have them in their 10% off beauty sale for £15.30 compared to their original £17.00. The price is inflated a bit compared to the regular dazzleglasses due to the special packaging they are in. I forgot about that at the time of ordering so should have ordered Love Alert in regular packaging as it is permanent and saved £1. Dazzleglasses have a brush applicator compared to the usual doe foot applicator in regular Lipglasses.

My photos do not do these justice at all, I found it so hard to capture the glitter in these accurately due to lack of daylight during my free time. Other blogs have much better photos of them, or check them out in person to get the full effect.
L-R: Pleasure Principle, Love Alert, She-Zam, Spanking Rich, Dressed to Dazzle
Dressed to Dazzle
I'm not sure how popular this will be with a lot of makeup fans, to the general public I imagine it will go down well. It isn't terribly unique. It is a very sheer pink, almost colourless with pink and gold sparkles. It gives just a teeny hint of colour to lips, just makes them look fuller and prettier. It isn't packed with glitter as much as a typical Dazzleglass is either. I don't consider any of these points bad though as I actually really like it. As soon as I saw it, I wanted to try it. I was talked out of it by different reviews and online hype but in the end I decided that if it was something that initally made me want it and I still like the colour, why listen to other people? It is a lovely every day gloss with that extra oomph from the glitter. It is a shade that can be worn over any lipstick possible so is sort of like a staple Dazzleglass shade. I'm looking forward to wearing it over Whirls & Twirls lipstick from this collection.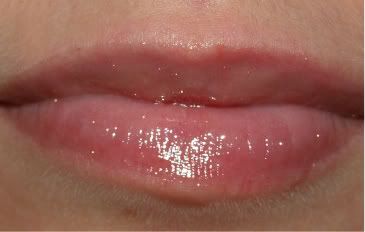 Pleasure Principle
This has a clear base and quite unique glitter in it. There is glitter in all different colours, blue, green, pink and gold. The most obvious colour is the blue but when different lighting hits it, the other colours come to life. It is really really pretty alone and would look fantastic with a dark smokey eye. It would also look great over a bright fushia pink lipstick, think Girl About Town or Show Orchid, especially with the blue that is already in the lipstick. Perfect party lip gloss. It is a repromote to make sure to check your collection.
She-Zam
This is a clear base packed with silver and pink glitter. It mainly shows up as silver glitter but when the light catches it, the pink gives it extra dimention. This again, looks great on it's own but beautiful over lipsticks. I imagine this over cool toned reds and pinks and berries. It is a repromote to make sure to check your collection.
Love Alert
This is a fushia red base with fushia glitter. It is actually quite pigmented for a Dazzleglass. It works really well alone as a more juicy looking bright reddened pink without going all the way opaque with a lipstick. It would also create extra dimension to red and pink lipsticks. This is a permanent Dazzleglass, you are better off buying it in permanent packaging to save £1.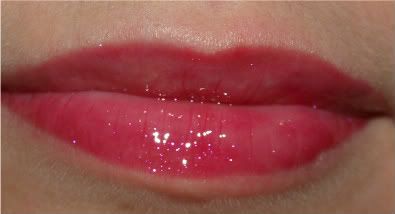 Spanking Rich
This shade looks almost duochrome in the tube, fushia berry flashing gold in some lights. It doesn't translate well onto the lips however. On the lips it is fushia berry with fushia glitter and a touch of gold glitter. It does give colour to the lips although not as much as Love Alert. It would look really nice over pink, red, berry, plum and even vampy shades of lipstick. I think this may be a repromote but I am unsure.
Jennifer xx