MAC's Holiday collection offered six mineralize eye shadows. I initially bought two of them and then later went back for two others after seeing lots of swatches. The last two ended up being my favourites of the four.
L-R: Fresh Ice, Shimmermint
Fresh Ice
This is a frosty white with a very slight pink tinge. It has some lavender pink veining in the pan to go with the white. I bought this to use as a highlight shade, particularly in the inner corners of my eyes. When used dry it is slightly sheer which makes it perfect for me to use as a highlight as it is not full on frosty opaque white. It has lovely sparkle to it but it isn't so chunky that I experience lots of fallout. To make it more opaque, using it over a primer gives more payoff and holds the sparkle more. It is even better wet, which is the general expectation for mineralize eye shadow - they work in a similar manner to pigments, when foiled the payoff is really good and has a metallic finish. It is really sparkly used like this but can still drop some sparkle once it dries.
L-R: Dry, Over primer (UDPP), Wet, Over Pixie Epoxy
Shimmermint
This is a glittery minty, silvery shade. I love shades like this and they seem very few and far between. They are often quite sheer too, I guess due to the lightness of the colour. This is also like that when used dry and... it is a complete glitter bomb. I first used this dry and it went everywhere, I mean everywhere. I was finding glitter all over my clothes as well as my chin and forehead. There was glitter flying off of the brush as I used it. This colour must be used wet, and carefully for it to stay put. Primer helps a little although not much, wet is much better but it can still drop. A sticky base is a MUST. Once finding out how to use it, it looks really nice on. On me it shows more green but I have seen it appear more blue on other people.
L-R: Dry, Over primer (UDPP), Wet, Over Pixie Epoxy
Snow Season
This is a peachy pink with pink and gold shimmer. It is a very smooth mineralize eye shadow and has good pigmentation even when dry. It makes a good wash of colour for quick application and could also be used as a highlight. It is the sort of colour which will flatter most skin tones. When used over primer it appears more pink and when foiled it is far more metallic and the payoff is much brighter. I really really like this shade and it will be getting a lot of use. I do not experience fall out with this shade.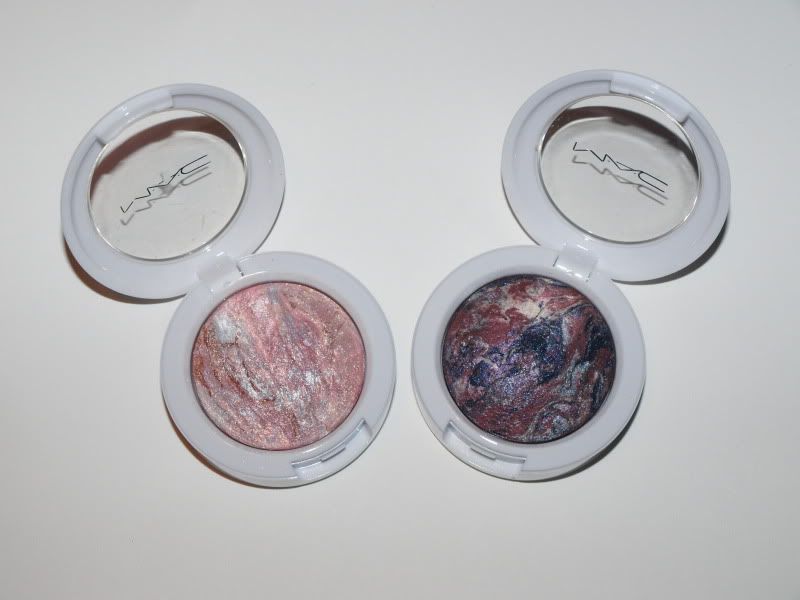 L-R: Snow Season, Winterized
L-R: Dry, Over primer (UDPP), Wet, Over Pixie Epoxy
Winterized
This is a smokey blue purple with a purple sheen. The base is a satin type of finish and then it has teeny purple sparkles. When used dry it appears more brown from the burgundy areas of the pan and applies smoothly with decent pigmentation. Like this it would work really nicely with khaki, olive and brown colours. When used over a primer it has more pigmentation but still retains the smokey quality. When foiled it becomes this amazing purple and much brighter. It has a gorgeous purple sheen when the light hits it with a slight pink tone. It works particularly nicely with Snow Season. I do not experience fall out with this shade. I love this one the most and it is definitely my favourite mineralize eye shadow out of all of the ones that I own.
L-R: Dry, Over primer (UDPP), Wet, Over Pixie Epoxy
I find the best way to use mineralize eye shadows is over a product called Pixie Epoxy, from a company called Fyrinnae. I will do a post on this product soon but it is basically like a 'glue' for pigments and works well for these types of eye shadows too. It holds the glitter or shimmer in really well and keeps the colour intense all day. I rarely get fall out if I use this product and I would advise using this to help.
Jennifer x