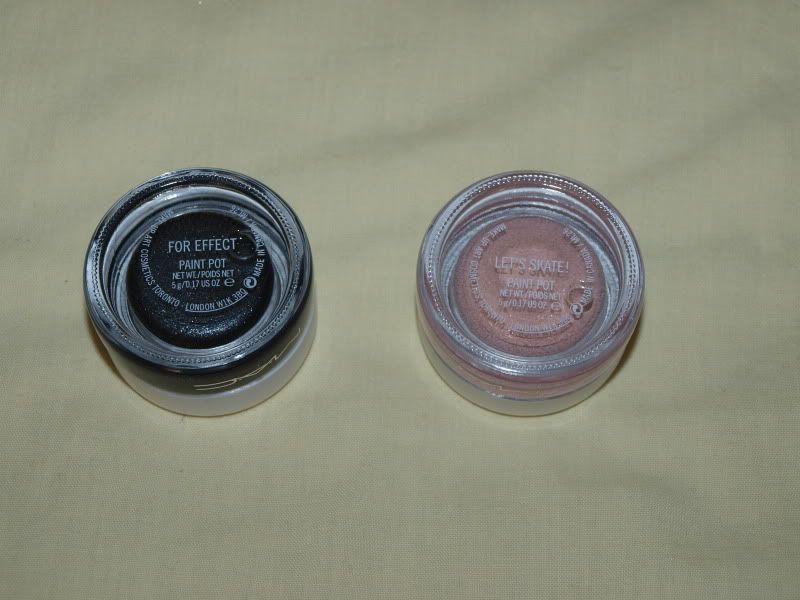 L-R: For Effect, Let's Skate
There are three Paint Pots in the Glitter & Ice collection, MAC's Holiday (Christmas) offering. All are quite neutral shades, a very pale pink, a taupe and a smokey grey. All are quite glittery and fall out can be expected in my experience. A primer or using some eyeshadow on top should reduce that. Bear in mind that if you hated the Cham-Pale Paint pots at the beginning of this year, you may also hate these. They are quite similar as they both have glitter but these are less chunky and apply much smoother. They are perfect colours for lots of eye looks for the holiday season. Really good as bases especially. I picked up two of the three as I felt didn't really like the third shade, Morning Frost, and felt that other brands made a shade like this which was nicer, such as Benefit.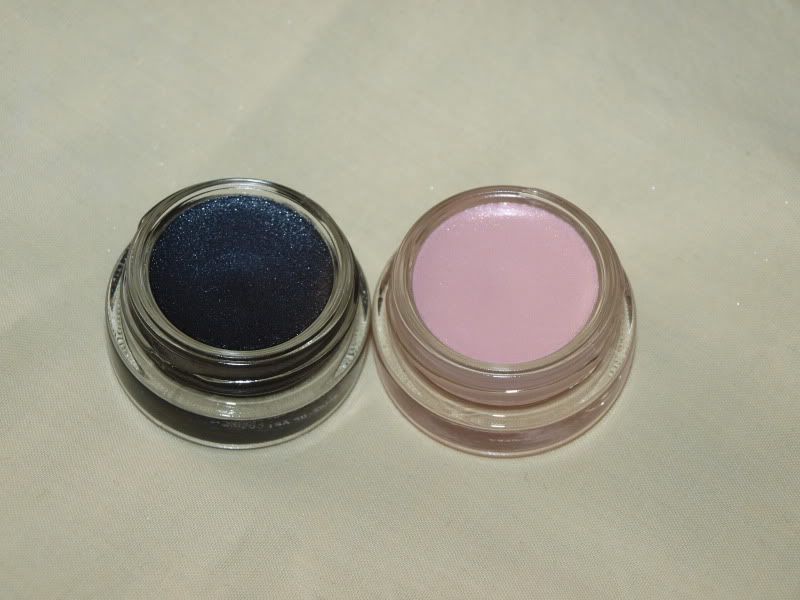 L-R: For Effect, Let's Skate
For Effect
This is not the most pigmented Paint Pot, it is slightly sheer but it is buildable. It is an excellent base for a dark smoldering smokey eye or adding depth and sparkle to colours on top of powder eyeshadows. It is a dark grey, on a similar line to Night Divine Eyeshadow with silver sparkle but seems to have other shades of sparkle in it too in certain lighting. I see glimpses of blue and fuschia as the light hits it. I do wish the texture was a bit smoother however but I like it regardless for a dark shimmery base, which is why I wanted it in the first place. Therefore it serves it's purpose for me.
Let's Skate
This is such a pretty colour, again it applies a bit unevenly, clean fingers work best with both of these shades and a patting motion apposed to sweeping and flicking the glitter all over your face. It can be worn alone as a subtle colour, being light, uneveness doesn't show as much but the main colour, which is a pale pink, isn't obvious anyway. It is the shimmer in this which makes the colour beautiful. It has lovely pink and gold sparkle, looks very wintery and would look fantastic with a bit of black liner, mascara, a bold red or pink lipstick and a nice pink blush on the apples of cheeks. It also works as a nice base, the sparkle comes through the eyeshadow. Neutral shades, pinks and purples would look beautiful over this colour.
The packaging, like all of this collection is white which makes a difference to the black lids of regular Paint Pots. Personally I don't like the white lids but it doesn't matter anyway. The bottoms of the pots are glass and quite weighty. Just remember to screw the lids on tightly to make sure they don't dry out, it is also better to store them upside down - you can see the colours easier that way too.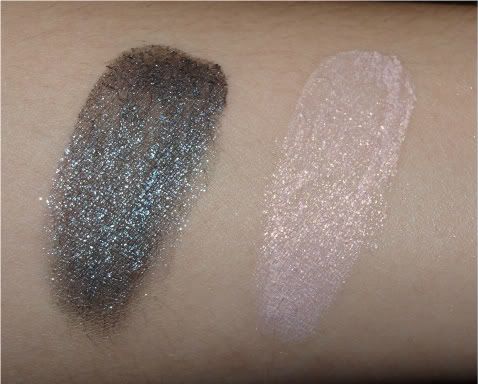 L-R: For Effect, Let's Skate
L-R: For Effect, Let's Skate
My swatches don't really do the colours justice but you may be able to see the gold shimmer better in the second photo of Let's Skate, it also shows some of the blue sparkle in For Effect.
Jennifer xx