I have a bit of a love/hate relationship with Benefit. I tend to buy things from them and then get them home and go 'meh' but for some reason they manage to lure me back again and again. This time it was because Debenhams had a sale on and this was included. The day before I had visited a Benefit counter in Brighton and had a quick look at some of the things but was pestered by one of the counter girls because I was touching things and she asked me if I was actually going to buy anything. I told her I was browsing and then picked up a catalogue and left. Silly girl, I would have probably bought something had she left me to it. I hate being pressurised in stores, if sales assistants do it, I'm off. I just like to browse before asking for help but anyway, rant over.
The catalogue had this amazing smell coming out of it from one of the perfume scratch and sniff pages and it got me a bit addicted to the catalogue so I decided to go online shopping for this perfume but couldn't find it on Benefit's website and then ended up seeing the Debenhams sale and spotted this mini collection of boxed powders - one of the things I'd been playing with the day before.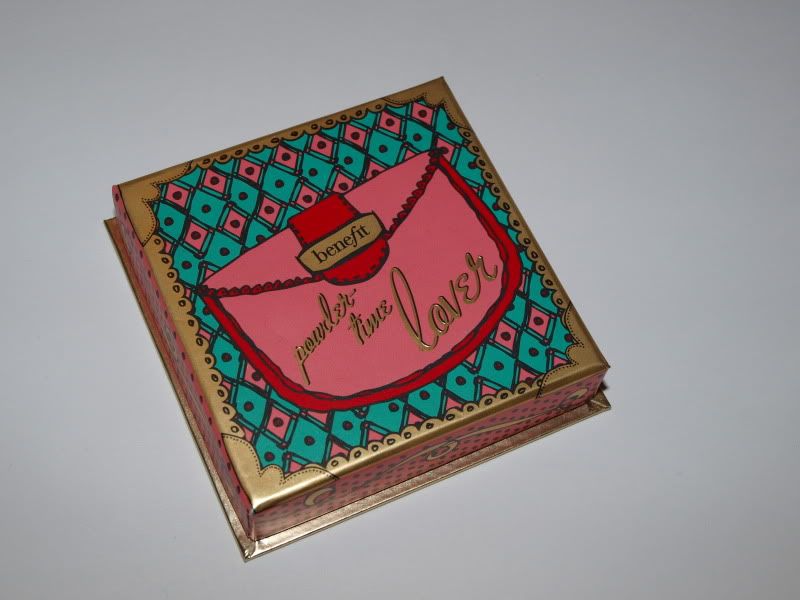 It was just over £16 I think and was originally about £10 more so I thought it would be good to try out. I'm glad I did, they're really nice and one of the few Benefit products I've fallen for.
This little box set contains Dandelion, Coralista and Dallas along with a mini brush (you may aswel chuck this as it is pretty useless - too small and flat although I guess you could use it to contour). I really like Benefit's packaging, they're fun and pretty but on the other hand, not always practical. You have to take the lid off to use this, I prefer a hinged lid because I wont drop the lid or misplace it and there is no risk of it falling off in your bag and exposing the product to get crushed or have stuff smooshed into it. All of Benefit's boxed powders are like this apart from their brand new shade Bella Bamba I belive. I also find that often their packaging is a bit clunky and bulky so not ideal for travelling or for putting in your bag for top ups but it is fine to be left at home. If stylish sleek packaging is your thing and you don't like loud in your face designs, you might not like this but to be honest I think the product inside is more important than the picture on the outside.
I think my favourite colour in this set is Coralista. My skin is light-medium in tone with it getting quite tanned in the summer. Coralista shows up nicely on my skin and gives me a lovely subtle coral glow which is great for any time of day and can go with most makeup as it is neither too pink or too peach - that perfect coral shade. Dallas is a light bronze shade on me, good for adding a little bit of bronze colour on my cheeks and in the temples and can be used to contour the hollows of your cheeks. It is a little darker than MAC Golden Bronzer which I have and that is very very subtle on my skin. Dandelion is a lovely shade, a pale pink with very subtle shimmer in it. I use it if I want a barely there face, I'm not sure if you could use it all over your face to create a soft glow - might work but you could add it to areas like along your nose, under your brows, cupids bow to brighten parts of your face - it is not a highlighter though.
Top: Dallas, Bottom: Dandelion and Coralista

L-R: Dallas sheered, Dallas, Dandelion sheered, Dandelion, Coralista sheered, Coralista.

Unfortunately this was limited for Christmas - there might be some left at counters but I doubt it but at least you can see some swatches of the three colours included in this set. If you are looking for a new blusher then I would reccomend these, I know in the full size ones you do get quite a lot of product for your money so I'd say they were a worthwhile purchase.
- Jennifer