I have been on the search for a suitable concealer for so long and tried so many, never finding one that lives up to my expectations. I have awful dark undereye circles and they make me feel so ugly if I don't conceal them. I look tired constantly no matter how much sleep I get and nothing else seems to make them lighten. I've tried eye cream that promises to reduce dark circles and that doesn't work, drinking more water, laying higher up in bed so the blood can flow away from my eyes... I think this one is a total myth. Nothing has made them better. I need a very full coverage concealer to hide them and after getting Bobbi Brown's Makeup Manual for Christmas, I saw the corrector and concealer in there and thought they looked great. Off I trotted to a counter to try the out. I was shown how to use this concealer along with the corrector due to how dark my circles are on one eye and the difference was amazing. My boyfriend told me afterwards that the eye which hadn't been made up looked so strange in comparision and once she had finished with that one I looked far more awake. I felt really happy afterwards with my pesky shadows hidden, really fresh and awake - obviously this was all subconcious but that is one of the great things about makeup - how it can make your mind feel :D
Bobbi Brown Corrector
Bobbi Brown Corrector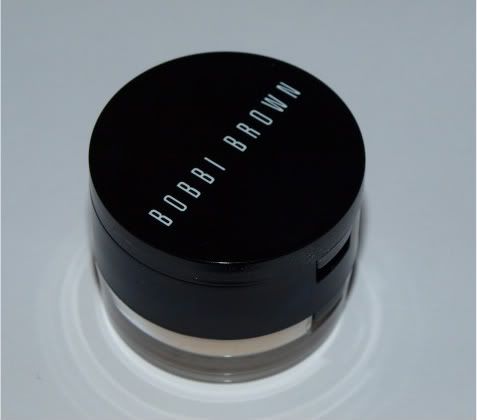 Bobbi Brown Concealer
Bobbi Brown Concealer
Bobbi Brown Concealer powder
Usually to cover dark circles you would just use a lighter coloured concealer to brighten the area but as my dark circles are so dark, I need a colour corrector to counter the purple tones. The correctors come in 12 different shades, all pink and peach toned to correct the shadows. The one pictured is 'Light to Medium Bisque'. They are full coverage so are designed for dark circles or for extra coverage. They are supposed to be used along with Bobbi Brown Creamy Concealer to blend into your skintone. Using just the corrector on it's own doesn't look right as it is too pink but once concealer is applied over the top it looks natural. You don't need to pack on concealer at all, to get a bit more coverage, add more corrector where needed. I just apply it to the shadowy areas and then add the concealer on my whole undereye area to brighten. I really like this product, it totally helps to banish my dark circles which with a concealer alone, I would find difficult. It is lightweight, but will crease... but you aren't going to be using it alone! The next step is concealer.
The concealer comes in two ways - alone or as a kit. I have the kit which includes a powder in the bottom and a powder puff to apply it with. It is available in 14 shades, including porcelain and chesnut so there should hopefully be a shade for everyone. The shade pictured is Beige which is a very good match to my skintone. The concealer is gorgeous, it glides on effortlessly and doesn't drag at all. It is best to roughly apply the product with a finger or concealer brush and then lightly pat into the skin rather than dragging it across which would just move the product away from where you want it. Patting helps to blend it in as well as keeping the coverage in the place you want. Again it is lightweight, but will crease so you will need to set it. This is where the kit comes in handy apposed to the single concealer. If you have a good setting powder, you can use that but the powder that comes with the concealer matches the product and it is all nice and neat in the same package so great for travelling. To use the powder you can apply with the puff included or use a fluffy brush. You don't need much, just enough to take the shine off so it feels more matt and to stop it seeping into the lines. It also helps it to last a lot longer, much longer than any other concealer I have tried.
I've done step by step photos of the application of these products, you get to see my dark circles in all their horrid glory... yay! I've only photographed one eye because you really don't need to see my whole face with no makeup.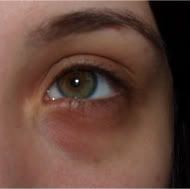 No makeup, bare yucky dark zombie circles.
Corrector applied to shadowy areas only on
undereye, dark circles KAPOW!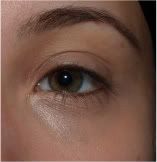 Yellow based concealer applied on entire undereye and eyelid to even
out skintone (I only do this when not wearing eyeshadow)


Finally, the sheer powder is applied on top of the lot to set it and prevent creasing.
It removes shine and any oily feeling and makes it blend completely naturally into my skintone.
 As you can see, it doesn't cover them completely, there is still a little bit of shadow there but I could apply more corrector to help this. I am very happy with it like this though, I've never before had a concealer which was capable of the coverage this gives, blends seamlessly into my skin tone and also doesn't oxidise on my dry skin! Just so you know, I'm not wearing any foundation and haven't done any photoshop hickery pokery to the photos haha, it really does work well.
Anyway, I hope this review helped anyone who is in the market for a decent concealer, I highly recommend it but do go get yourself colour matched at a counter if you do decide to go for it. If you have any questions that I haven't answered, leave me a comment and I will get back to you.
- Jennifer