To go with my 1920's inspired makeup look I decided to do some nail art inspired by Art Deco which started in the 1920's and continued into the 40's. I googled Art Deco to find some inspiration, particularly looking for something which was quite simple and would work on nails. I found this:
I thought this was a window pane but it is actually a carved granite door sign.
I've seen this sort of sesign before and thought it would look nice using the half moon type manicure and then adding the sunburst coming out of it. Now I'm not very good at nail art, I'm still trying to get the hang of painting designs with nail polish as it dries so quickly on the brush whereas my usual painting medium is acrylic which I find very easy to work with. I would have liked the lines to be crisper and thinner, more like the design above but I just did it from memory and only painted five sunburst stripes.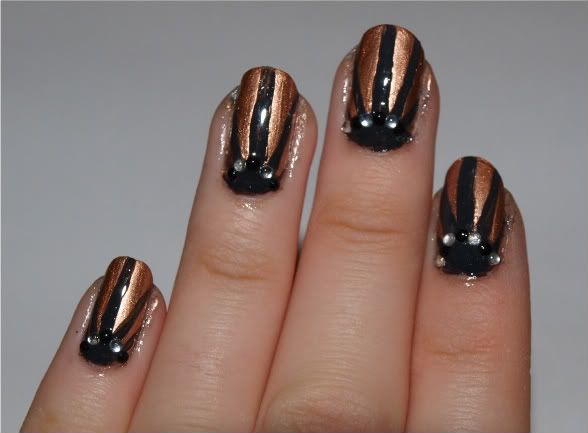 More pictures and products used...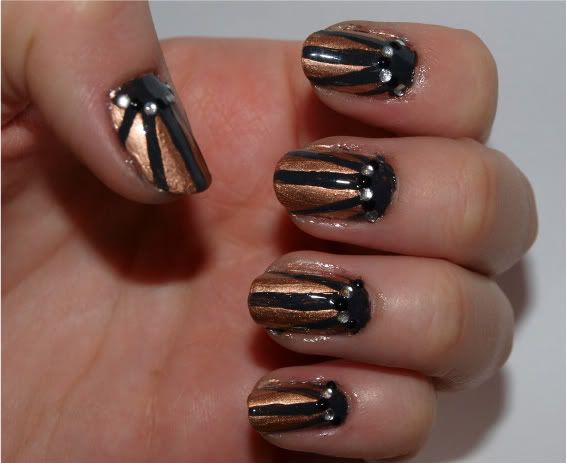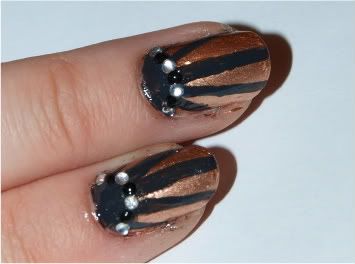 For the base I used Leighton Denny Liquid Gold. This is quite a thick polish and I found it hard to work with but thinner should sort that out. It is a gorgeous colour, it has brassy and silvery toned shimmer in the bottle which mix together on the nail making a lovely metallic shade of gold. Due to the thickness, I didn't leave it long enough to dry between coats so have some bubbling but most of this is covered with the dark grey. The grey I used was Leighton Denny Greycious. I didn't want to use a black because I thought it would be quite harsh (plus the black I have is rubbish) but on second thoughts, I think it would have been nice with black.
After doing the design, I added some black and silver rhinestones alternatively, following the shape of the half moon. I wanted to add a bit more glamour to the design as I felt something was missing from it. I don't think all the gems overpower it at all because the colours meld so well together and the design is quite simple. It also reminds me of London West End Theatres with the ball shaped lights on the signs and dressing room mirrors with lights around them.
What do you think?
- Jennifer