Hi all! Another month gone so it is that time again. February seemed to go so quickly and yet it seems like it was ages since this year began... wierd. Anyway, these are the things that I've been liking this month, my concealer and corrector from Bobbi Brown are still firm favourites for me but I wanted to show some other things instead.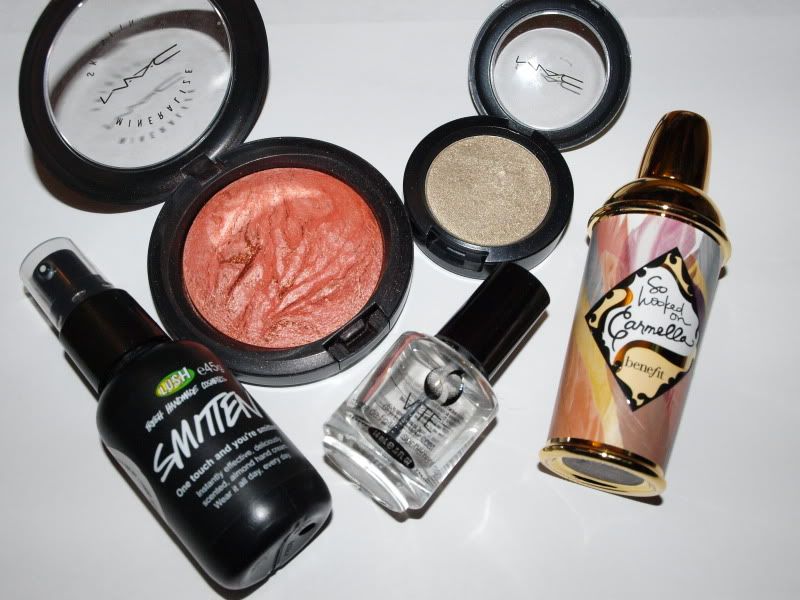 MAC Stereo Rose MSF, MAC Dalliance Mega Metal Eyeshadow,
Lush Smitten, Seche Vite Dry Fast Top Coat, Benefit So Hooked on Camella Eau de Toilette
Firstly, MAC Stereo Rose MSF (Mineralise Skin Finish). This was one of the first products I bought from MAC when I started buying from them last year. I thought the swatch picture on MAC's site looked quite nice and then I did a little google to see what it looked like on. This was before I was aware of the beauty blogging world so only had google pictures to go on but ended up going for it as so many people were saying it was nice. I thought it was really pretty in the pan at first but it just didn't seem to show up on me. When I bought my MAC 129 brush I realised that it wouldn't show up due to the crappy brush I was using before. It got shoved away because I still wasn't in love with it and then I thought I'd try it again last month and found have been reaching for it loads now. It just gives me a nice glow and adds a lovely colour. It is shimmery so it isn't something for everyone but I do love it now and I'm glad I purchased it.
MAC Dalliance Mega Metal Eyeshadow - You can see my review for these, including this shade
here
. This colour is lovely and works so well as just a wash over the lid area when you just want a bit of subtle colour. It is quite a versatile shade and would work with a nice range of colours. I've used it with green, cranberry, brown and turquoise so far (all mega metals). It also has a great texture.
Lush Smitten - This handcream is a funny one for me as I actually dislike the smell. It smells of almonds but more towards the marzipan side but not all the way there (if it did smell exactly like marzipan, I wouldn't use it... bleugh!). I suffer from ezcema and have done for years. It isn't terrible but it can get bad at times, especially in cold weather where my skin can become so dry and end up cracking so it bleeds. I got this product in a Lush hatbox and thought I'd try it out before giving it away as I didn't like the smell and found that it is actually a pretty decent hand cream. At the moment my hands aren't their best due to the cold weather we have had in London over the past few days and it takes a lot for a moisturiser to keep up. However, my skin is better than it would usually be. They are still sore but they are soft except for around my knuckles and between my fingers. Hopefully they continue to get better :D
Seche Vite Dry Fast Top Coat - I am rubbish at keeping my nails looking nice after painting them. I always seem to bump them on something and smudge them. They always seem to take forever to dry and I'm just unpatient and sods law I need the loo or something straight after! I'm so glad to have read about this product and decided to buy it. It is just brilliant and dries my nails in 5 minutes. It penetrates through each layer of lacquer to dry and seal them. It also gives an amazing glass like shine finish.
Lastly, So Hooked on Camella Eau de Toilette from Benefit. I am rubbish at describing perfume but I really love this. I do smell vanilla and coconut in it and it is a sweet creamy sort of smell. Benefit have the base notes listed as Vanilla, Sandalwood and Amber (I often choose these for my perfume as I love how they smell on me) the middle notes as cyclamen, peony and tiare flower and the top notes as grapefruit, lemon and rhubard. Wierd how I smell coconut... I don't even like coconut but I do love this perfume. I think some people may say it is cloying but I don't find it to be, there is something there taking the edge off the sweetness for me, might be the florals or the zingy fruits cutting through it. This perfume lasts and lasts and lasts on my skin, something that rarely happens. I can still smell it on my scarf/coat a few days later when I haven't worn it. Also, the packaging is gorgeous, it is like a cocktail shaker which I think is really fun and the box is made of a thick cardboard and designed like a house with the front flipping down to reveal the interior. This is definately a repurchase for me and I'd like to try the other Benefit perfumes to see how they fare.
- Jennifer