MAC are releasing a brand new collection for this Summer called Surf Baby, inspired by the sun and sea.
"Grab the board, hop in the Jeep, cruise the Pacific Coast Highway… Surf's up! The lure of the endless summer starts here with My Paradise Cheek Powder, Mini Blush Sticks, a Summer Stash of Crushed Metallic Pigments, Hibiscus Lipstick and Splashproof Lash Mascara that just won't smudge. Colourful, lustrous, and full of life… journey to a world where feeling the rush means taking a risk. Hang Ten!"
Blush
- My Paradise (Coral orange with champagne gold flower)
Lipstick
- Bust Out! (Soft violet), Hibiscus (Bright coral), Mocha, Naturally (Eccentric Nude)
Lipglass
- Girl on Board (Sheer gold), Good Lovin' (Peach pink), Krazy Kahuna (Medium brown),
Strange Potion
(Pink coral)
Crushed Metallic Pigment Stacks
- Summer Stash (Pale pink, gray pink, purple, taupe), Surf the Ocean (Silver, aqua, gold, navy blue)
Eyeshadow
- Saffron (Coral), Short Shorts (Whte champagne), Sun Blonde (Yellow with gold pearl), Surf U.S.A. (Aqua with teal pearl), Swell Baby (Medium gray)
Nail Lacquer
- Hangin' Loose (Beige), Ocean Dip (Aqua teal)
Eye Liner
- Blue Noon (Teal), Gilded White (Shimmering off-white)
Bronzing Powder
- Solar Riche
Studio Careblend Pressed Powder
- Gold-go-Lightly
Tan Tint
- Billionaire Bronze (Soft gold), Guilty Bronze (Copper bronze)
Blush Sticks
and
Suntints
are also in this collection.
Read on for promotional imagery...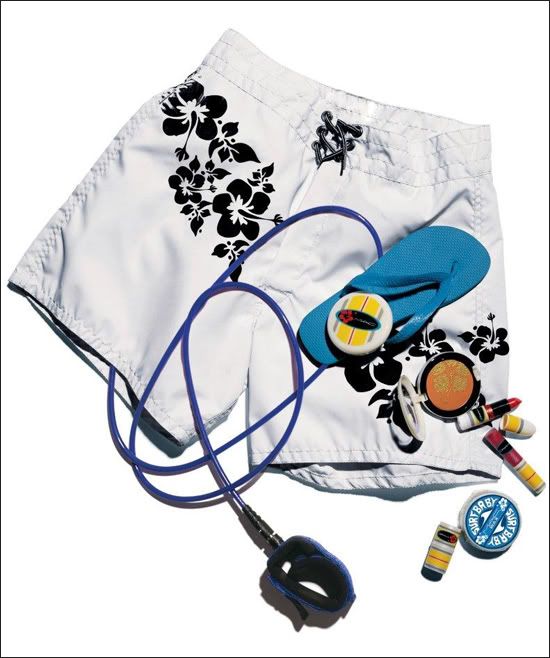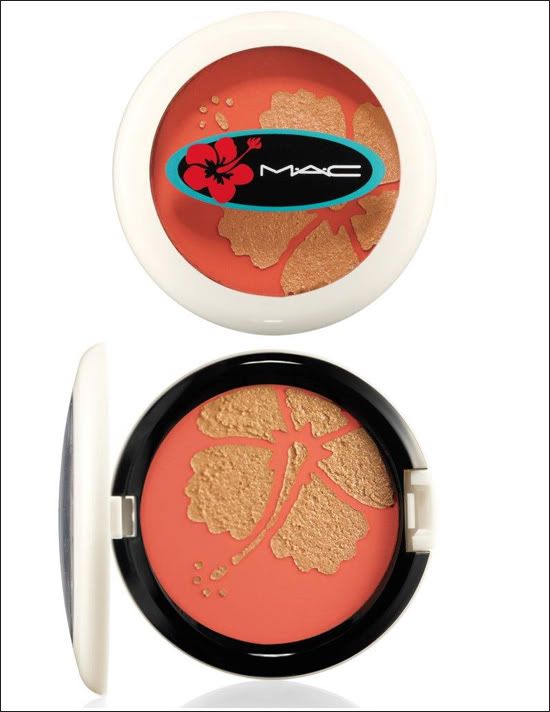 Anything here catch your eye? I like the look of the teal/blue pigment stack, it looks like coloured sand. I also like the look of Hibiscus lipstick and the blusher. I'm looking forward to finding out more about the other products not pictured here too, especially whatever it is in the tin (second photo), it looks like a board wax tin, wonder what is in it.
Photo credit Temptalia.com
- Jennifer