This was a TSV (Today's Special Value) on QVC a while ago and I keep meaning to review it even though it was delivered a few days after being on air. I did a post on the day it came out at the special price but it is now £36.50 on QVC. I am quite a fan of Leighton Denny's products, I think they are excellent quality and his kits for QVC are such great value.
The boxed kits are great, they are well packaged in a fantastic box (usually white but this kit is a special edition silver) so would make good gifts or if keeping it for yourself, ideal for keeping your products all together.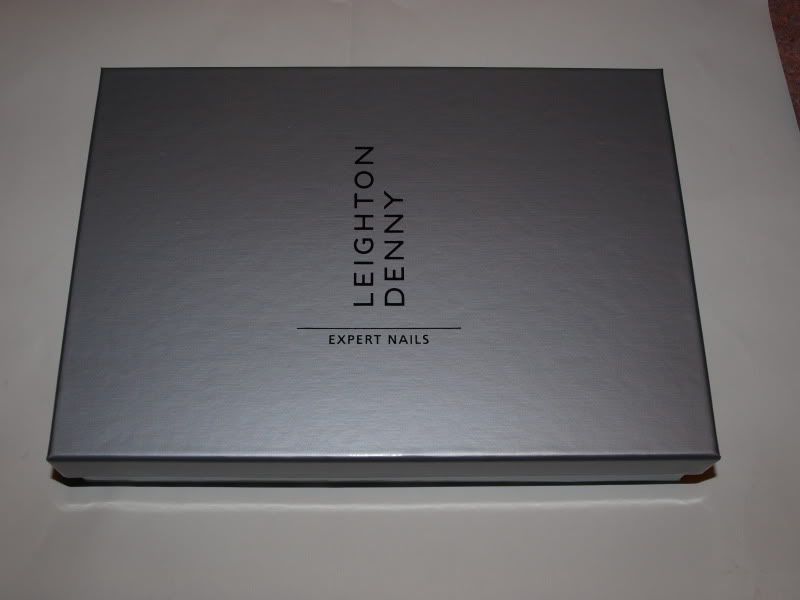 Outer box. Nice sleek design.
Inside contents. Well packed and compact.
In the kit you recieve five nail colours (the best bit about this selection!), a bottle of Miracle Drops, tube of Cuti Lips, Demi File Buffer, Uno File and a hoof stick. Leighton Denny's nail colours retail for £11 each so you are pretty much getting 3 and a bit bottles for this price of this kit (the value was even better when it was the TSV).
Read on for pictures and review!
First off I will start with the accessories, making you wait for the exciting part haha.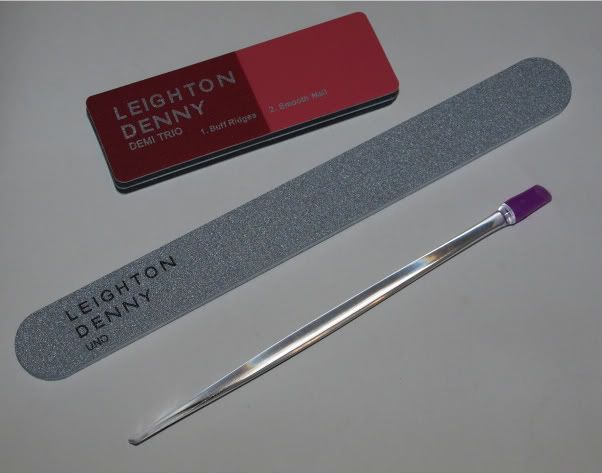 Top to bottom: Demi Trio Buffer, Uno File, hoof stick.
Back of Demi Trio Buffer
Demi Trio Buffer:
This buffer has 3 parts to it, and they are numbered in the order to use them. It is designed to buff and smooth out ridges and then shine the nail plate to a high gloss. On the top (red side), half is to buff ridges and the other half is to smooth nail. On the bottom is the white side which is the miracle shine. It is a decent buffer although I prefer block buffers because I find them easier to hold and use. This one is nice to fit in your handbag if you want to use it on the train or at work. I would prefer if it were a bit bigger so that I had a larger part of each area, making it easier to use but it still works.
Uno File:
This a file... just a file. It has a nice grade of grit on it which isn't too rough but is strong enough to file the edges of nails and is double sided. It is better than a cheap emery board but it is escentally just a disposable file.
Hoof stick:
This is a cuticle pusher or a cuticle stick, whichever you want to call it. Again, it is pretty standard but the purple end is rubberised so isn't harsh on nails as a plastic one. It also has a flat pointed end to clean under nails or help tidy up cuticles. This is something everyone who likes painting or wants to look after their nails needs in their makeup bag, regardless of which one they choose, it doesn't matter.
Next up, the 'treatment' products.
L-R: Miracle Drops, Cuti Lips
Miracle Drops:
Drop a couple of drops on nails facing downwards so that it can run across the nail and it will dry nails very quickly. Definately something worth having if you need to dry nails quickly, although personally I prefer Seche Vite as it is my topcoat and dryer in one but if I ran out I'd reach straight for this.
Cuti Lips:
To be honest, I haven't really been using it as I am using Lush Lip Scrubs at the moment and cuticle oil on my nails. This is balm for cuticles and lips to soften them and gently scrub away dead skin. I tried it on my lips and wasn't really strong enough for mine as they get very dry but it is quite nice on cuticles. This is a new formulation of the product as it now comes in a tube aposed to the pot it used to be in, thus being more hygenic to use and you can also squeeze it directly to where you want.
Now, the best bit, the nail colours! All are 12ml each.
L-R: Indulgence (deep creamy red), Berry Nice (deep berry), Supermodel (creamy mink),
Lollypop (watermelon pink), Leading Lilac (shimmery lilac)
Indulgence:
Gorgeous blue based red. Perfect for vintage or rockabilly style nails and would lovely to jazz up a plain suit or dress. I'd wear it with anything though, even a casual band t-shirt and jeans for work. It is a cream finish and like most of Leighton Denny's nail colours, is perfectly opaque in two coats. This is a great basic shade for a collection.
Berry Nice: Another cream finish, really nice colour. Quite a grown up pink (looks a bit darker in real life). I think this would look really nice on lighter skin tones for a contrast. Another two coater for perfect coverage. This is a Spring/Summer shade from Leighton Denny.

Supermodel:
This is a colour that is a favourite amongst Leighton Denny customers. It is not a colour that I'd usually pick at all as I normally pick bright colours. However, this is actually a gorgeous colour! It would go with anything in any colour. It would be a lovely change for people who like french manicures to have a colour which is neutral and flattering but actually shows well compared to a normal french pink shade. It is a cream finish again and two coats looks best.
Lollypop: Luuuuurvey summery shade of corally pink. Perfect for bright outfits or just against white. It would look fantastic on toes with sandals and is a very flattering shade. I like neon colours but this would be a good alternative to have the bright colour but not go too out there. It would be a great holiday shade. It is a cream finish and perfect in two coats. This is a Spring/Summer shade from Leighton Denny.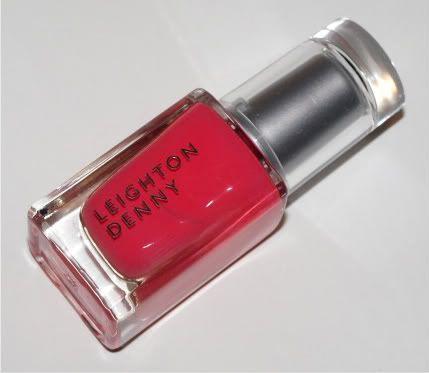 Leading Lilac:
This is an exclusive colour which is not available separately or in other kits. I adore this shade, I don't own anything else like it and I have only seen one other colour which is similar. It is not just any old lilac, it has a murkiness to it which is very on trend at the moment. I also think it is a work appropriate colour. This one has a nice shimmer in it which isn't too obvious but subtle and looks very elegant on nails. Again, perfect in two coats.
Thumb: Indulgence, Fingers L-R: Berry Nice, Supermodel, Lollypop, Leading Lilac.
I love the formula of Leighton Denny's polishes. They aren't too thick or too thin. Some of these are thicker than others but still workable. Sometimes the polish can look a bit uneven in the first coat and you may think that it will take a few more coats to sort it out but after the second it looks perfect. They are self levelling polishes so even if you aren't good at painting, they level themselves out so you shouldn't get bumps in the finish. They have such a high shine to them as well without a topcoat although it is always best to use one to prolong a manicure. If you read reviews of this kit on QVC, a lot of people are reporting that their manicure lasts over a week which is fantastic. I agree with this, they are very hardwearing on me and I am someone who easily chips nail varnish as I type a lot and am just a general clutz.
Overall, I think this kit is excellent in both the products and the value. Leighton Denny's polishes are a bit pricey at £11 individually but in this kit they are much easier on your purse. Plus, a bit bonus with QVC, you get to test out things for 30 days and if you don't like them, just return them for a refund (except postage) and it doesn't even matter if you have painted all your friends nails with it too so there is product missing from the bottles, they will still take it back! Worth trying I think.
- Jennifer