I know a lot of people think that the Wonder Woman collection is awful, the packaging looks cheap, they don't like the colours, the supersized products is a rubbish concept. I actually really love this collection. I love the comic book style packaging and think a lot of the colours are great. I'm two halves with the supersized things but I will get to that later. I think Wonder Woman is a great character for MAC to use as she is all about peace, love and sexual equality, the latter being part of MAC's motto 'All ages, all races, all sexes'.
Firstly this collection came out with three eyeshadow quads, one pink based, one blue based and one green based. As I am a sucker for green eyeshadows, I knew this was going to be something I would buy providing that it swatched well. It contains four eyeshadows, Manila Paper (white frosty gold - veluxe pearl, repromote), Valiant (light gold-green - frost, limited edition), Diana Undercover (forest green - satin, limited edition) and Spinning Transformation (khaki-bronze - frost, limited edition).
The packaging is gorgeous in my opinion. I am quite nerdy and love these sort of things :D It is so fun and takes me back to watching Wonder Woman on TV when I was little. The outer is true to the DC comicbook, featuring Wonder Woman herself and Medusa who is trying to use her 'drab ray' to turn Wonder Woman into a Plain Jane. The inside of the box is printed blue with white stars which I think is a lovely finishing touches and show that MAC do like to pay attention to details. The quad itself is red on top and blue on the bottom and feels like it is made of metal. It has a glossy finish and is printed with the Wonder Woman logo on top. I really like the shape of this quad compared to regular quads because it slips easily into my makeup bag, also there is a proper button to open it so it makes it easier to get into. It clicks back into place when you close it, it just feels more substantial than the regular quads (regardless of the design printed on it). The inside is gold, again metal and comes with a mirror in the lid which is just the right size to do your eyes and see both at once.
Continue reading for picspam and swatches!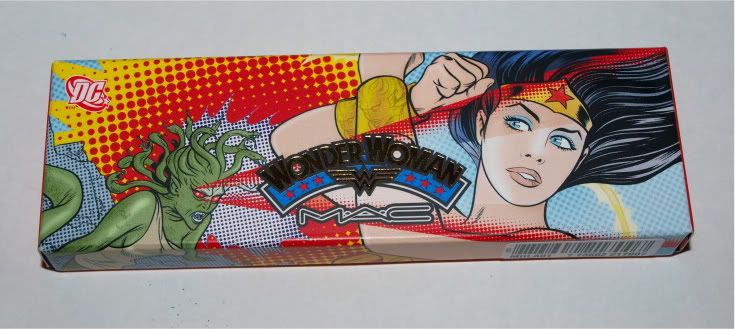 Outer packaging
Inner cardboard
Compact
Back
L-R: Manila Paper, Valiant, Diana Undercover, Spinning Transformation.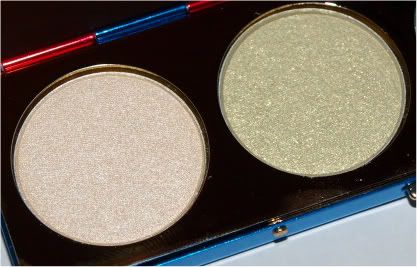 L-R: Manila Paper, Valiant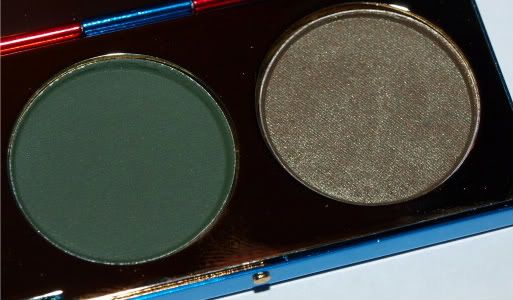 L-R: Diana Undercover, Spinning Transformation
Manila Paper is a really nice eyeshadow, it is well pigmented and would work nicely as an inner corner highlight as well as blending with a darker eyeshadow towards the brow bone. I love the finish of this, it is so soft to use and blend. I don't think I'd use it as a lid colour personally as it might look a bit too white on my skin tone. Valiant, is a gorgeous colour but unfortunately lacks some pigmentation which is a shame. I do find myself scrubbing a little to get more colour on the brush as it is a bit sheer. However, I could use this as a subtle lid colour. Diana Undercover doesn't swatch very well, it is the same sort of thing as matte eyeshadows which tend to go a bit dusty looking but when they are used with a brush they are much softer and the colour blends together much better. Again, this colour could be more pigmented as I had to go back to the pan a few times to pick up more colour. Spinning Transformation had good pigmentation but I found it a bit gritty. It is a really nice colour though and works well with my eyes.
L-R: Manila Paper, Valiant, Diana Undercover, Spinning Transformation
Overall, I do like this quad but it could have been better. The colours are very me and work well with my skin tone and eye colour, bringing out the green in them. I'm glad I got this as I can never have enough greens and it is nice to have the different finishes in it.
I will be reviewing the other bits I purchased from this collection throught this week.
- Jennifer