The Wonder Woman collection included four shades of lipstick and four shades of lipglass, ranging from pale pink, purple, bronze and red. I picked up two of the lipglasses and three of the lipsticks. MAC's lipsticks and lipglasses are vanilla scented, so yummy.
The Lipsticks I got were Marquise'd (sheer pink nude with sheen - lustre finish), Spitfire (magenta purply pink - satin finish) and Russian Red (rich blue based red - matte finish). I had been wanting Russian Red for a while so decided to pick it up from this collection as it was in cool packaging lol. The packaging for these is so fun, the outer is blue with the Wonder Woman logo and the cap is red. The metal tube inside is gold with a red star, I love it but I know it is not for everyone.
I really like lustre finishes but they don't tend to last long on the lips however I find them moisturising and they make my lips appear full. Marquise'd, being a light shade lasts even less time on the lips than darker lustre finish shades. It is a very nice colour though, I really like to wear it to work to help give my lips moisture and also a bit of colour. I don't work in a place where you need to stay safe with your clothes or makeup and hair but I do sometimes get stupid comments from colleagues about the way I dress so I am often put off wearing bright lip colours there. Therefore, I am glad I picked this colour. It also works so well with smokey eye makeup or 60's inspired makeup. On less red toned natural lips, this would appear lighter and pinker.
Spitfire is meant to be pinker from other swatches I have seen but it definitely purple toned on my lips.It might be because my bare lips are quite red naturally. It is another comfortable to wear lipstick. If you like the look of matte lipsticks but find them really drying, you might want to try a satin finish for a similar look. I like this colour for a more subtle version of MAC Violetta (on my lips) but you might find it comes out pinker on your own lips. If you are looking for a purply shade, go for Violetta instead. This is a little disappointment to me because I wanted it to be pinker on me but never mind, it is still a nice lipstick.
Russian Red is my favourite out of the three although I wont get much wear out of it due to idiots at work. I think it is probably my perfect shade of red, it is just a stunning colour. I like that it is blue based as it works well with my warm skin tone although it can look a bit more neutral on my skin. I find that orange based reds just look orange on me so it is nice to have a proper red. I have one other matte MAC lipstick and find it so drying on my already dry lips but Russian Red doesn't do that to me thankfully. This colour would work on any skin tone definitely, it is such a universal shade. You can buy it from the permanent line so if you aren't fussed about packaging, you may aswell get it in regular black and save a little bit of money.
Read on for swatches and lipglass review...
L-R: Marquise'd, Spitfire, Russian Red
Marquise'd
Spitfire
Russian Red
L-R: Marquise'd, Spitfire, Russian Red
Marquise'd
Spitfire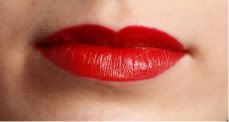 Russian Red
Onto the lipglasses...
The two colours I picked up were Athena's Kiss (fuchsia pink with shimmer) and Wonder Woman (semi opaque red with gold shimmer).
The lipglasses in this collection are super sized. This is good as you get more product however, the tubes are so clunky, the lid feels odd between your fingers when using it, the applicator is huge which I found really hard to use and make the colour apply evenly. But, the worst thing is that when you go to pull the wand out of the tube, it gets stuck, so you pull harder and then 'blob', lipgloss on your top/leg/desk/bag/floor/whatever you have underneath it. Soooooo annoying! I found the best way to get the wand out was to slowly twist it back and forth while gently pulling and it will come out. You will end up with quite a lot of product on the applicator sponge and this made it hard for me to apply it to my lips as they aren't very full. I imagine if you have thinner lips than me, this will be a ridiculous task, lipgloss will go everywhere around your mouth unless you are super careful. I just wish they had used a normal sized applicator and made the wand longer to get to the end of the tube. Or they could have just used one of their long type tubes for their other glosses. Such bad design.
The colours themselves are nice though. They are a bit sheer though, I found it odd to be applying a red but it wouldn't go on opaque enough for my liking unless I piled it on and then I ended up with it sticking between my top and bottom lips when I opened my mouth, so gross. If sheer colours are your thing, great but some people might find these best to use over a lipstick. Both of these shades work really well over their co-ordinating lipstick colour (Athena's Kiss over Spitfire and Wonder Woman over Russian Red). I found that if I used Athena's Kiss over Spitfire, I got nearer to the pink shade I had wanted. Also, if you find matte lipsticks drying, it would be nice to add Wonder Woman on top to help give your lips some moisture. I really liked the gold flecks in Wonder Woman, they are so pretty but unfortunately, I was unable to capture them on camera. If you head over to Temptalia, she has excellent swatches of it so that may help.
L-R: Wonder Woman, Athena's Kiss
Wonder Woman
Athena's Kiss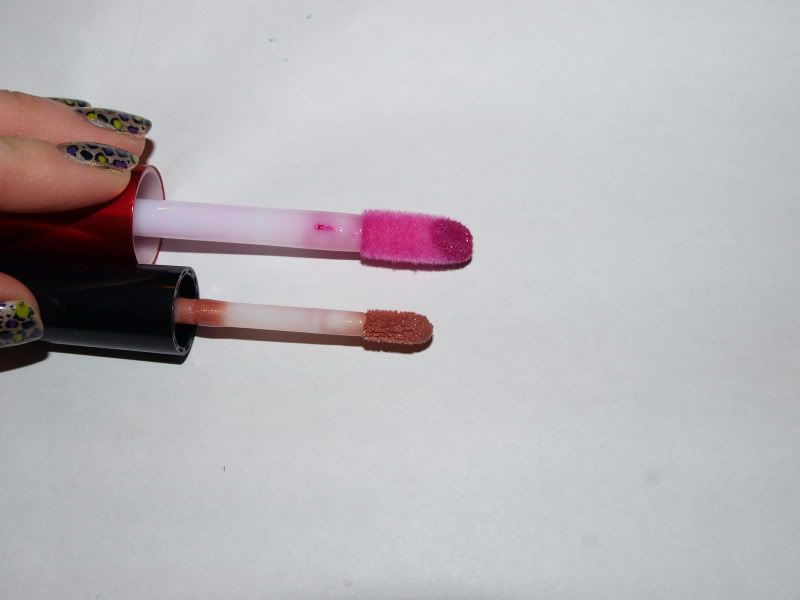 Top: Athena's Kiss, Bottom: Viva Glam V (regular sized lipglass)
Top: Athena's Kiss, Bottom: Viva Glam V (regular sized lipglass)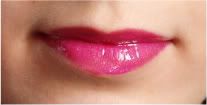 Athena's Kiss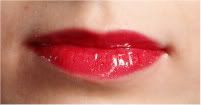 Wonder Woman
Athena's Kiss over Spitfire
Wonder Woman over Russian Red
- Jennifer