This is some information for Illamasqua's new Spring Summer 2011 collection, Toxic Nature, which releases on March 10th online and March 17th in stores/at counters. You can go to their website now and join the waiting list for products and be entered into a give away to win the whole collection!
The collection is made up of bright neon shades as well as murky and earthy tones to contrast it in pure Illamasqua style. This collection is about nature fighting back against humans destroying it. The promotional images show a sort of semi dead secret garden type landscape. I think the makeup is just incredible in these shots, they're real masterpieces. I don't know how Illamasqua do it, they just seem to outdo themselves every time.
Read on for more information!
The products in this collection are:
Lipstick - Atomic (bright fuchsia) and Flare (bright orange)
Sheer lipgloss - Divine (fuchsia) and Torture (bright coral peach)
Precision Ink - Glister (glittering nude)
Nail polish - Gamma (neon orange), Radium (toxic lime green), Stagnate (mauve-grey), Bacterium (dirty gold-green shimmer) and Purity (peach)
Finally there is a brand new type of product for this launch:
Cream pigment - Emerge (peach), Bedaub (mint), Dab (lilac), Hollow (beige), Delirium (taupe rose) and Mould (dark purple)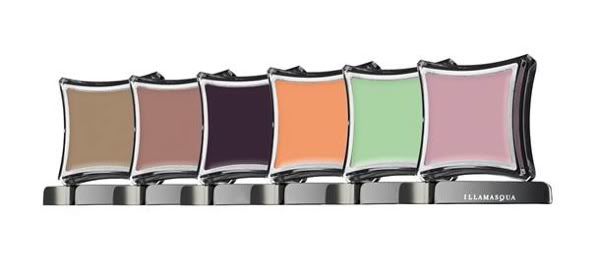 The cream pigments are versitile products designed to be used in so many ways - eyeshadow, cheek colour, lip colour, contouring, body paint and even in the HAIR! Very cool sounding, especially the hair part. They also promise to be less likely to crease than their Cream Eyeshadows or Liquid Metals so hopefully they work well that way and will be good for the summer. I've never been let down by an Illamasqua product so I have high hopes for these!
Promotional shots:
Look how pigmented the the cream pigments are!
The nails on this model are so nice, I love the funky french style in these shades.
This photo also shows the pigments used in hair.
Can you see the tiny spiders on her nails? You can see the pigment in her hair here too.
These shots just scream Illamasqua. I love the set design.
The only thing that I will say, the makeup on these models reminds me of the weird Japanese Ganguro style. Google it, you will see what I mean. This is so much nicer though but clearly not wearable lol!
Do Not Refreeze has some lovely swatches and photos of the blogger event that she attended
here
. She also has photos of the new Nail Claws, a twist on Illamasqua's Nail Quills and a great photo of the cream pigments in dark hair!
So, anything here catch your eye? I love the look of the green, orange and peach nail polishes as well as the cream pigments. I can't wait to have a play with them, I'd like to put them in my hair!
- Jennifer